18 Quick Tips From Top Maid Agency Qatar To Declutter Kids Room
Here's everything you need to know to make your Kid's room clean, clutter-free and organized – Experts from Top Maid Agency Qatar speaks!
                                                               A place for everything, everything in its place.
                                                                                                                      –    Benjamin Franklin
 Books disorganized, almost dropping down from the rack, Crayons scattered on the table and the floor, endless curious toys taking over the room – the usual scene when you set foot in your little one's bedroom. Dealing with clutter is such a backbreaker for almost all of us. Why is decluttering and cleaning so hard? Looking for a way to fix this mess? Here's everything you need to know to make your little darling's bedroom well ordered.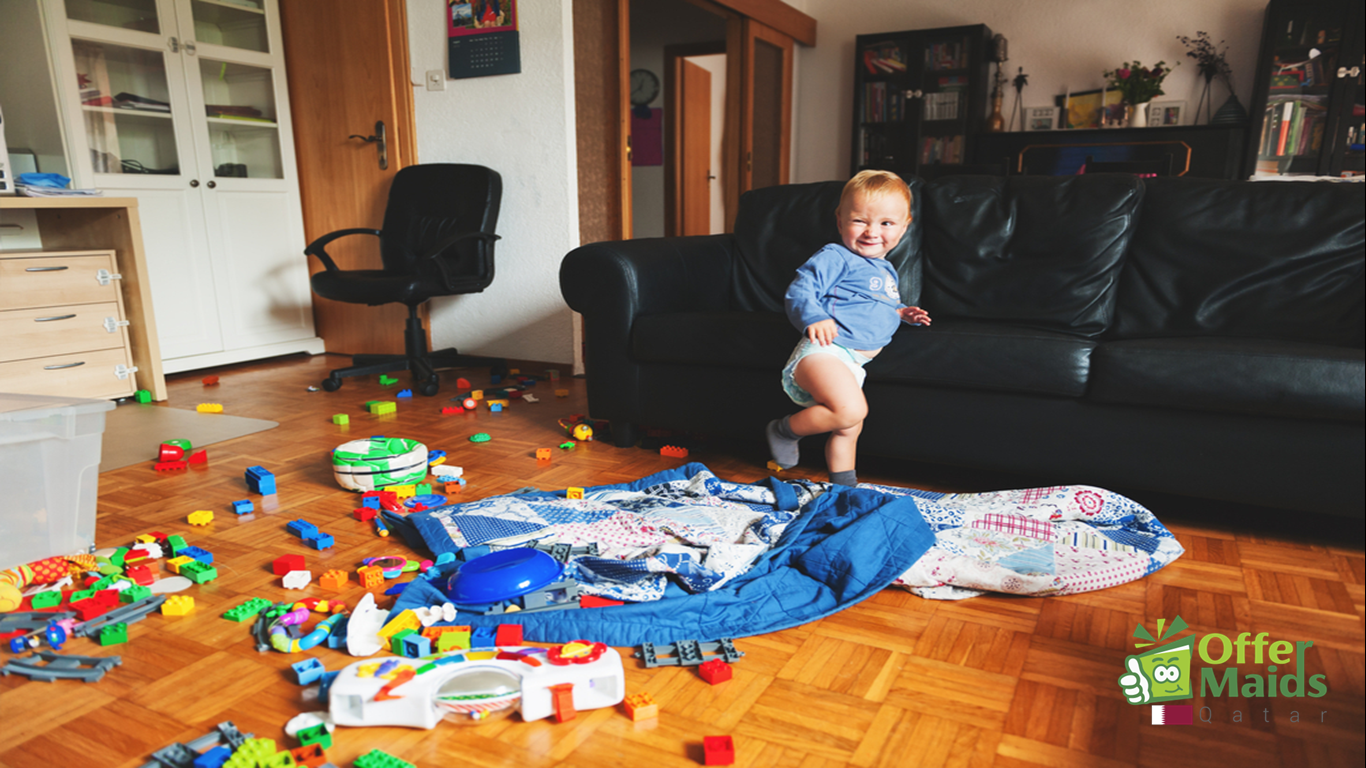 Why is a clutter-free, clean room important for our Kids?
Less possibility of missing stuff

Less cleaning effort

Teaches kids to be involved and organized.

Increases creativity in kids

Less Stress
These quick tips from top maid agency Qatar will make your kid's room clean, decluttered, organized, and air-permeable.
 1. Knowing how to organize
First and foremost, we should know how and where to organize stuff, experts from top maid agency Qatar. See-through or labeled organizers can help kids to easily identify what is kept where. 
2. Involve Kids, Their opinion matters
After all, it's your kid's room and we should let them share likes and dislikes hence developing responsible behavior. It will be really interesting and exciting for the kids to work with us. It is important to get them involved from the beginning until the end. Let them know about the seriousness of being organized.
3. Make a rough plan 
Maid Agency Qatar recommends to make a rough plan of what all needs to be decluttered and where it needs to be placed. Write it down so that you can refer midway. 
4. Make it fun
Make it a fun-filled activity for the kids as well as you so that it will be interesting and working in a happy atmosphere helps in finishing your work with ease. Turn clean-up into a game.
5. Reward them
Reward your kids for helping you clean their room. It can be their favorite chocolate or a favorite toy. Thank and encourage them as they took good effort in cleaning, making it a habit, and set expectations.
6. Everything has a place.
Assign a place for every belonging and this in succession creates a habit of putting things in its place.
7. A place for electronics
Designate a place to keep their gadgets like kindles, iPods, etc. along with a charging area.
8. Make bed every morning
Let our kids begin their day making the bed and start the day not being lazy.
9. Label Things
Labeling is an easier way for letting others know where each thing belongs to. It saves you time.
10. Only approved items in the kid's room
Kids' rooms can easily be a dumping ground brimmed with their collectibles. Be selective while allowing them to keep stuff in the room. This way you can restrict the supply of clutters. 
11. Paperworks
Kids have a jumble of school papers including their certificates, worksheets, paperwork, math facts, or editing sentences. Classify them into 3 sections.
Those needed in future

– Certificates, paperwork to present in school later, to prepare for a test, etc. Store them in separate files.

Cute

Masterpieces

– Artworks such as paintings, crafts, etc. Create memory boxes to keep their adorable works, or you can designate an area to pop up their artworks and keep them framed.

Throwables

– Scribbles which are not needed in the future goes directly into the trash. 
12. Shoes, Coats, backpacks, lunch bags
Maid agency Qatar advises using Baskets, Bins and Hanging Pockets, Hooks, and Racks to keep their shoes, jackets, backpacks, and lunch bags in place. Clear organizers will be a good option as your kids can see what's inside. This will restrict them from keeping them on the bed, table, or simply putting them on the floor.
13. Keep occasional items wrapped away
Grab some storage bins or organizers and label your seasonal and occasional clothing and accessories. Neatly store thermal wear, winter clothing, and boots to use in winter. 
14. Donate Stuff
Make your child a part of the donation process so that they learn the difference between need and want. They can donate their unused toys, dresses, and other accessories. You can take part in tax-deductible donations.
15. DIY – Repurposing or upcycling
Upcycles reduce junk, improve creativity, and also it reduces the cost of buying new products. You can easily DIY things like storage solutions. Interested? Here's the BuzzFeed link to get inspired with tons of DIYs.
16. Utilize under-bed storage
'If you can make use of under-bed storage, they can solve most of your storage concerns' say experts from top maid agency Qatar. Store less-used items in the under bed rolling drawers. You can use rolling carts, compartmented organizers where you can categorize toys, daily wear, towels, and so on.
17.Dedicated space for toys.
Create dedicated storage areas for toys. Convert extra hanging flower pots as stuffed animal holders. Fill bean bags with plushies. It puts all the plushes hidden while creating more sitting space.

18. Book an expert from Maid Agency Qatar 
Hiring a cleaning service saves a lot of your time. Maid agency Qatar provides expert maids so that you can save some time for leisure as well as family time. They are experienced and offer convenience. Here are some benefits of hiring a cleaning service.
Deep cleaning

Equipped with advanced tools

Saves a lot of time and energy

Experts do it better

Offer convenience

They are highly trained and background checked
Want to know how cleaning services help to get rid of dust in your home? Then, check out our previous blog Hire cleaning services to get rid of the dust in your home.
Hire Expert Cleaners From Top Maid Agency Qatar
          Need more help? Check out the House Cleaning services provided by highly trained and experienced professionals at Maid Agency Qatar – Offer Maids Qatar. We can clean your little one's room with the utmost care and attention. Being one of the most trusted and reliable maid agency Qatar, We are continuously aiming at providing excellent domestic and workplace cleaning services to all the residents of Qatar at a pocket-friendly rate. Our expertise covers House cleaning, Kitchen Cleaning, Laundry and Ironing, Hourly maid service Qatar, Office Cleaning, Party Helpers, Pets Care, and Window Cleaning. 
So take a break from cleaning, we can do that for you!