7 Time-Saving Housekeeping Tips From Pro Hourly Maids in Qatar
Everyday we need to deal with cleaning and housekeeping chores. Sometimes to handle these messes is really frustrating. They are so time consuming. We know that hourly maids are experts in cleaning and housekeeping jobs. Pro hourly maids in Qatar have revealed some expert tricks in housekeeping to slacken housekeeping chores. Add sparkle to your home using these amazing tried and tested time saving housekeeping tips and tricks from most reliable Maids Services Qatar.
Follow these time saving pro tips to keep your clothes, sandals, kids accessories, books and everything in control. 
Declutter the mess
Time to put your favorite song, forget the word 'impossible'  and start decluttering. Work on the messiest rooms at the beginning and stay in a single room clutter free or else you would have ended up creating more messes. until you Seek help from your kids and let this be a game to them. Reward them with their favorite chocolates when they complete what you've assigned them. Organize similar items into groups. It will be easier to sort things. Assign a fixed storage area for similar things. You can keep them in transparent storage or simply label them so that it will be easier to recognize them in future.
Make your dishwasher run better
Having a dishwasher will keep you relaxed as you don't need to bother too much about washing dishes. The major problem with dishwashers is that large food particles will get clogged and may jam the drainage.  Make sure you use a spoon to scrape off large food before dishwashing so it won't get clogged. Keep your crockeries upside down to ensure complete drying. Keep white vinegar with some drops of lemon juice on the upper rack of your dishwasher in a dishwasher safe utensil and simply run it through a hot water cycle. This will help to remove any foul odour from your dishwasher.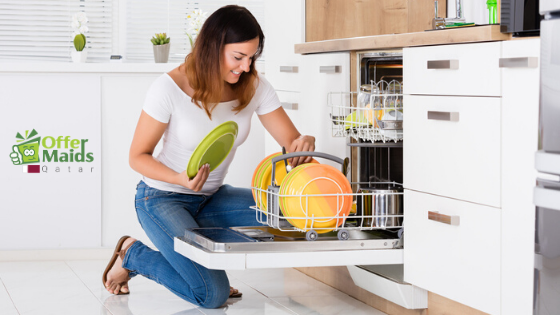 Gadgets need care too
Gadgets need cleaning for disinfecting, dust-freeing, dirt removal, or eliminating any other debris.Wipe them with any kind of wipes. Avoid porous areas while you clean them. Due to frequent touch, it may get deposited by a lot of germs and it is important to clean them on a regular basis. Dedicate a place for your electronic gadgets to keep them for charging and keep them while you're not using it rather than scatter them in bed or table. Create a stockpile for keeping the dvds and other electronic devices. To avoid cord clutters, disguise the cords using cord covers or you can create a docking area.
Vacuuming helps
Vacuuming is the best way to make your home dust free and also keep the allergens away. Give a quick vacuum to clean off dust, debris and cobwebs. A vacuum cleaner will suck in all the dirts inside. It will save a lot of your time and energy. Vacuuming helps to remove the pet hair shed by your pets. Also give a fresh look to your walls removing all the dust and debri deposits on your walls. Portable and compact vacuum cleaners are available in the market and they are useful in cleaning corners of your house which are not reachable by normal vacuum cleaners.
Reuse an old toothbrush
An old toothbrush can be the best scrubber for a lot of things in your home. It can help to retain the faded glow of your jewelleries. For cleaning small areas of your kitchen cabinet or the area between your bathroom tiles, cleaning your hair brush, an unused toothbrush can do wonders in cleaning them. Give a mild scrub to the shower head using an old toothbrush to clean the dirt. You can apply mild soap to your jewelleries and gently give a scrub with an unused toothbrush. This will give a sudden glow to the jewelleries by removing all the dirt from it.
Make you rooms smell fresh
Foul smelling home is a really frustrating thing. Sometimes pet accidents, leftover food, dirty laundry, etc. are the reason for bad odours. You need to identify the source of these odours and make necessary steps to get rid of them. A pleasant smell opens up your senses. Using air fresheners can give your house a fresh smell and it can instantly create a positive mood for you, your family, friends and your guests. You can create a homemade air freshener using the ingredients in your home. Natural scents are chemical free and work wonders. Essential oils can be an awesome choice when it comes to natural room fresheners. Mix essential oil and alcohol in a bottle of water. Pour it in a spray bottle and you can use it as a natural scent.  
Do not forget bathrooms
Make your bathrooms germ free and more sparkling with these amazing pro tips by hourly maids in Qatar. Rub shower heads and other areas with white vinegar. This will remove all the dirt and keep the germs away. Give a nice wash to all the bathing toys of your kids. You can use gentle soap or even bath soap to remove the dirts. Use your old toothbrush to scrub off the dirts between bathroom tiles. Give a quick wash to your bathroom curtains. Use bleach to clean discoloured areas and clean grout as they are prone to bacteria growth.Baking soda can help to bring an instant glow to the bathroom floorings. 
Best maid services Qatar for a reliable home cleaning
Make your home more appealing by making them spot-free and more sparkling. Offer Maids in Qatar give you splendid cleaning services by providing reliable hourly maids in Qatar. Our services include residential and commercial cleaning, party cleaning and pet care services.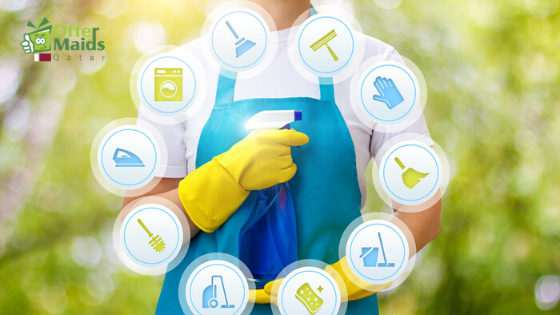 Add beautiful shine to your floors, windows, and your kitchen by our professional cleaning service. We do provide excellent pet care services in Qatar. Our expert pet sitters are trained for pet sitting and other pet care services. Our maids are well trained, background checked and experienced to provide a better cleaning.