Benefits of Professional Party Cleaning
Parties are tons of fun for everyone except those organizing it, as centuries of partying have taught us. If you host a party at your home, you'll find glasses, bottles, plates and cutlery wherever you look. Let's not even talk about the bathrooms, if there was alcohol involved. Office parties are another matter altogether; you would be stressed out throughout, trying to keep the office space fit for working the day after the party. 
Whether or not you have an open bar for the party, being able to simply clear away all the mess at the snap of a finger is one power secretly craved by both homeowners and office managers alike. 
Do not despair, for the best party cleaning services in Qatar are at your service. Take the stress out of party cleaning and leave it to the professionals to help you make your home or office spotless and perfect. Because parties are supposed to be enjoyed, without worrying about tomorrow's work. Here is how to throw the best party by hiring party helpers in Qatar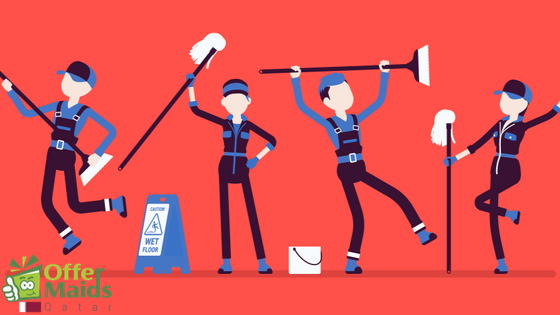 Before-Party Cleaning:
When planning a party, getting your home or office ready for guests can sound like a difficult task. You'll need to get lots of plates, glasses and other accessories, apart from preparing the necessary dishes and stocking up the bar, if necessary. Before your guests arrive, your home or office needs to look spotless. If you're planning to decorate, that would need special attention as well. With all these and more on your mind, you'll be stressed out even before the party, to properly enjoy yourself. 
Party cleaning services in Qatar help you do all this and more when you book before-party cleaning services. Your home or office would be decked out and everything would be clean, polished and made ready for your party. Just sit back and relax as your party is organized for you.
Helping Manage Your Party:
Even if you're throwing a birthday party at our house, you can't be everywhere at once, arranging food and drinks for your guests, making sure everyone is satisfied, and generally being the life of your party. party helpers in Qatar are renowned for providing exceptional service to guests – they help out your guests, get them food and water and are almost hosts themselves.
After-Party Cleaning:
Party cleaning services in Qatar offer a range of cleaning services for home and office. When you wake up the next day with a hangover or get ready for the daily grind, forget about the mess and leave it to the professionals.
General Cleaning:
The morning after a party, your home or office would look totally messy, as if a herd of rhinos had charged through it. When you hire party cleaners in Qatar, you get all-round cleaning without the headache of doing it all by yourself. The cleaners will take care to restore your house to the way it was before the party, maybe even improve it. 
General cleaning involves vacuuming, mopping and washing the floors of your home or office. The cleaners will make sure to dust everything in your house so it looks pristine and fresh. All trash will be collected into trash bags and made ready for disposal.
Kitchen Cleaning:
The kitchen would be full of used dishes and cutlery; the plates in the sink would be piled ceiling-high; leftover food would be thrown around on your counter tops and even inside the oven. when you walk in to make coffee the next morning. To avoid those unpleasant sights that could make you want to reconsider having a party at your home ever again, hire the best party cleaners in Qatar.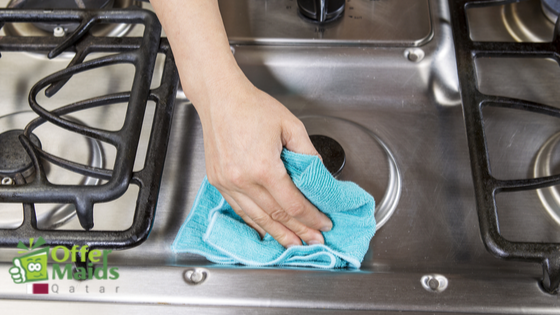 Your kitchen appliances would be wiped clean and those counter tops that were coated with food would be wiped clean, ready for the next party. You'll find the sink empty but clean, the dishes laid out on the rack, washed and dried, and the cutlery squeaky clean. 
Living Rooms and Bedroom Cleaning:
Living rooms bear the brunt of all indoor parties as any homeowner would know. Couches and chairs would be upturned and left all over the place. Food and drinks would have been spilled – unfortunately, at least in one chair or couch. If you had guests sleeping over, your bedrooms would share a similar experience too.
Party cleaning services in Qatar clean and arrange your furniture, collect the trash and essentially make your living room and bedrooms actually hospitable.
Bathroom Cleaning:
Bathrooms are a big source of worry when organizing large parties because bathroom floors are easy to stain and need to be disinfected after use.
Party cleaning services in Qatar ensure your bathroom tiles and shower enclosures are stain-free. Your toilets would be sanitized and cleaned, and the sinks and taps polished. 
Outdoor Cleaning:
The benefits of having a pool party are many. But hosting a pool party can be a headache for homeowners. The morning after the party would be spent trying to fish out all the stuff that went into the pool but never climbed out, and sometimes that includes food as well. Your lawn would be strewn with debris too.
Cleaners take this mess off your hands when they tidy up everything on your property. If you had used a lot of decorations and outdoor equipment for the party, they'll be packed up and put away. Any outdoor furniture that needs to be moved would also be taken care of. The trash would be collected and made ready for disposal.
Hire the professionals for your party cleaning needs:
While you're busy organizing your party while shuttling between home and office, you may not have the time to find the best party cleaners in Qatar among the hundreds of cleaning companies in Qatar. Rest assured that the hardest part of the process is finding a service that best fits your party cleaning needs.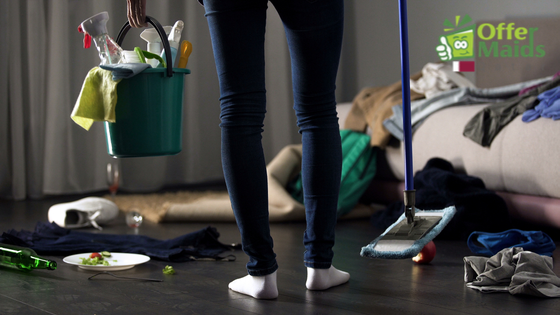 Check out Offer Maids – the party cleaning services in Qatar for all your party-cleaning needs. We take care of your home and office space before and after a party, at the most affordable prices. We put quality cleaning above all else to deliver satisfaction to our valuable clients.