The kitchen is the most used space in your home and it needs a makeover in summer. Read this blog to get ideas for the easy and properly clean kitchen this summer. Summer is just around the corner, and so is the time to give way to clean up your house for all the family get-togethers, welcoming guests over an occasion. And it is not all surprising that the most tiring task is to clean the stains of oils, food ingredients, and mold around the high traffic area of the home i.e., the Kitchen. So, here are some of the tips from the kitchen cleaning service in Qatar to give a new shine to your kitchen. OfferMaids the cleaning services in Qatar provides the best kitchen cleaning service in Qatar.
Cleaning Ideas for Stove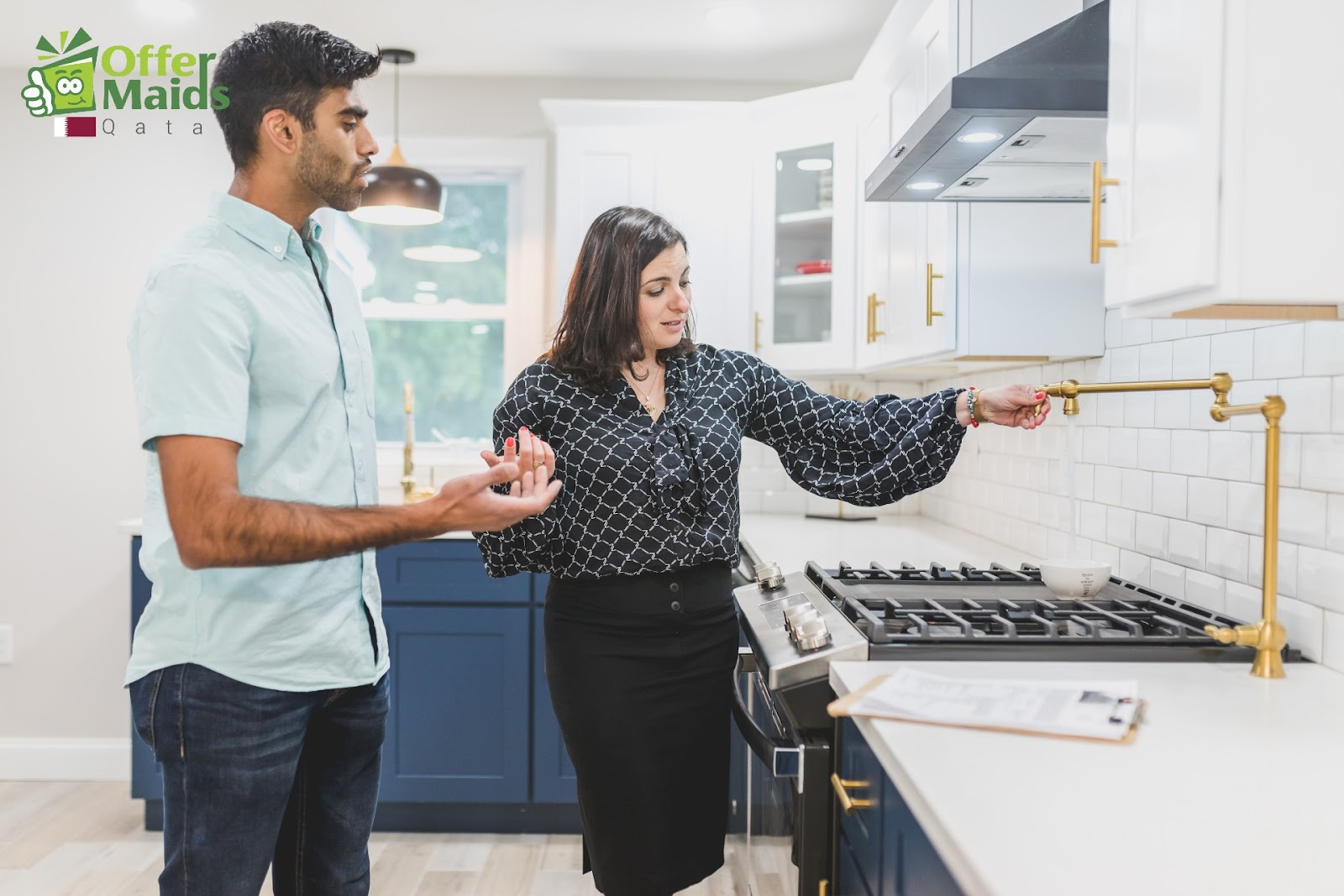 Cleaning your stove is something you should do more carefully and you can't afford the unavoidable spills on your stove. However, before you begin cleaning, make sure the stove is unplugged and cooled to touch. First, spray an all-purpose cleaner or cleaning supply of your choice and then wipe down the entire surface with a cotton cloth or sponge. If you are having big marks that are hard to come off; deep cleaning the whole surface with the right cleaning supply is the best choice. If you are having difficulty cleaning your kitchen, hire our kitchen cleaning service in Qatar.
Chimney Cleaning
Many of the homeowners are interested in maintaining their house clean and do not mind spending time on it. Moreover, the flames from the chimney can spread into the walls and roof of your home that can turn into a devastating disaster. It is another Kitchen appliance that attracts dirty things like grease, unwanted particles, and many more. The inside space of the chimney can be easily removed and cleaned properly using a cleaner. However, many hard-to-reach areas require special care and you may need to clean the rest of the chimney with warm water and baking soda or vinegar thoroughly. For professional kitchen cleaning service in Qatar, always choose Offermaids Qatar the best cleaning services.
Kitchen Sink Cleaning Tips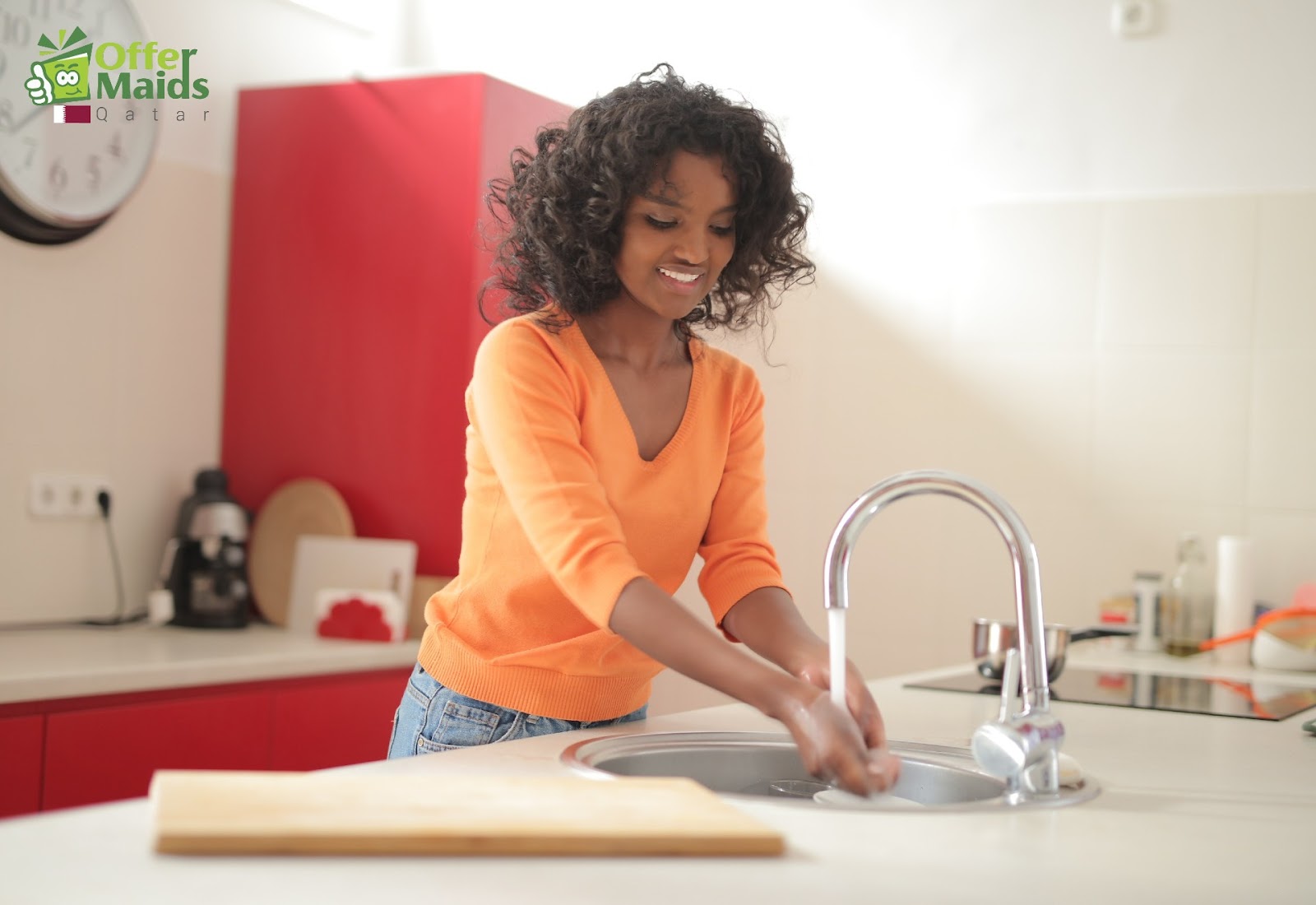 Keeping the kitchen clean is very important, especially the sink and drain. Everyday kitchen handles with greasy, dirty dishes, oil, and food stains. If kept untouched, a clogged drain and dirty sink can be a breeding ground for bacteria, flies, and cockroaches. These things can cause a foul smell and an unhealthy atmosphere at the house. So, it is better to hire a kitchen cleaning service in Qatar. Moreover, the kitchen sink is an area which most of the food stocks, thus, it's essential to clean it carefully. First, pour a cup of baking soda and vinegar into the kitchen sink. Along with this, pour some boiling water to thoroughly clean it. Wipe and rinse it with a cloth or sponge. The whole process can be tiring especially if you have to do it regularly. Hire our maids for kitchen cleaning service in Qatar to do the whole kitchen cleaning for you.
Kitchen Countertop Cleaning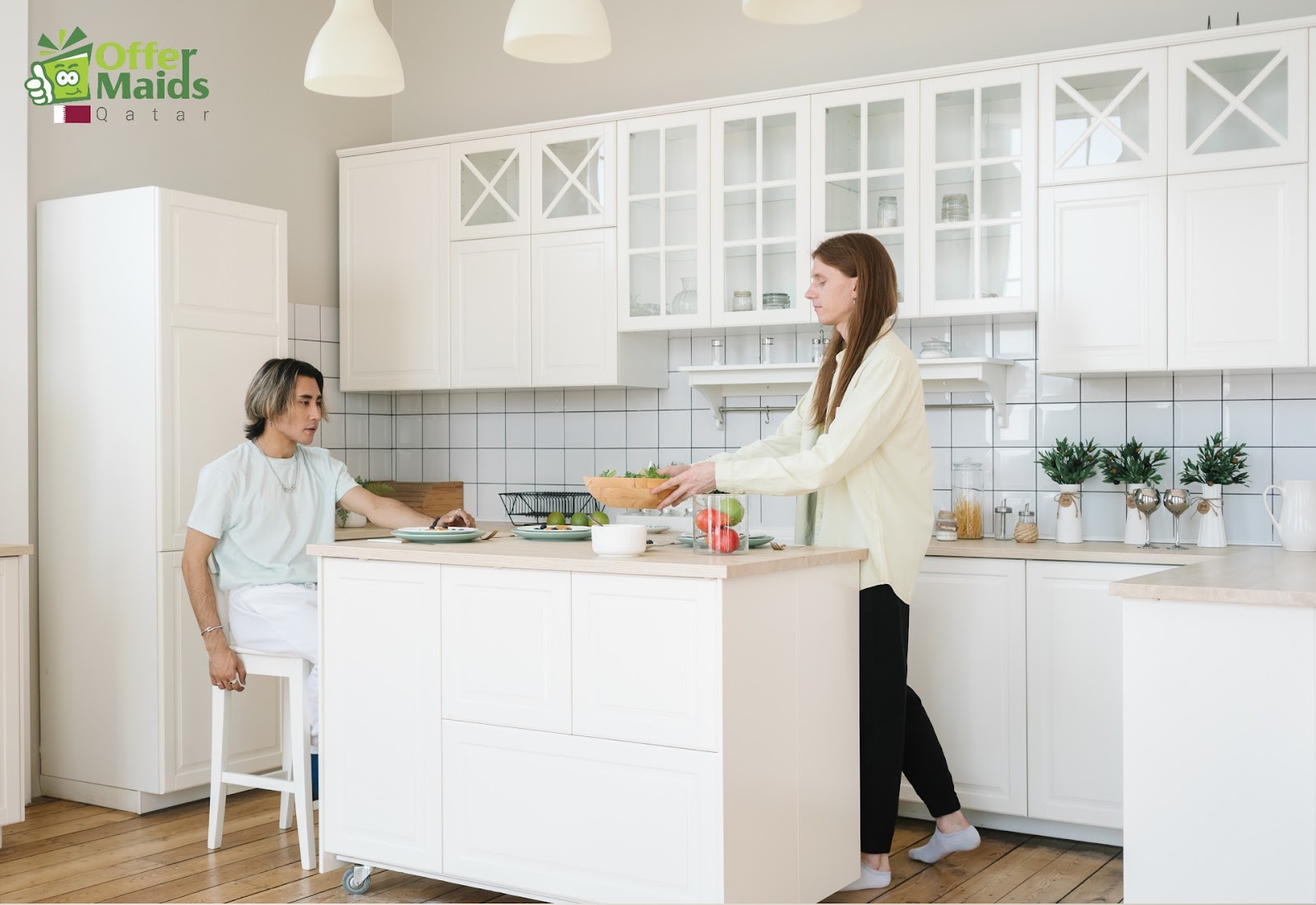 Cleaning kitchen countertops require special care when compared to other kitchen appliances. Kitchen counters attract dirt and they are considered a hard task to clean. They get dirty with all kinds of things like spilling the drinks, scratches, food waste, and many more. Cleaning the countertops might look difficult without chemicals. But, it is very simple with natural DIY solutions. However, kitchen countertop cleaning relies on the material used. Most of the countertops can be easily cleaned with soap and water. If you are having granite and marble it may require special cleaning with strong acids such as vinegar or other cleaning material. Book your kitchen cleaning service in Qatar from OfferMaids the best cleaning service in Qatar.
Tips for Cleaning Microwave 
Microwave is one of those home appliances that require special care while cleaning. You don't have to use any chemicals to clean them, Few cups of water and two tablespoons of vinegar is all it takes to effectively clean the entire microwave. You can also choose lemon juice to clean your microwave, squeeze lemon in water. Put them into the microwave and run them for a couple of minutes. Allow it to rest and cool for another 15 minutes. Then carefully open the door, remove the water and wipe the entire surface of the inside with a cloth. 
Get the best kitchen cleaning service in Qatar with OfferMaids.
Refrigerator Cleaning Tips
Refrigerators are used more frequently in every kitchen by all family members. Most of our food, vegetables, and fruits are kept in the refrigerator to protect them from damage. Chances of spillage are high, it is very essential to make them clean throughout the day. Hire our kitchen cleaning service in Qatar to do this for you, we will empty the fridge and effectively clean the entire refrigerator. These cabinets of the fridge can be cleaned separately while cleaning the entire fridge with all-purpose cleaner and water. For all the molds, clean them with vinegar and water. In the end, wipe the fridge and let it dry before you stack all your groceries. 
Kitchen Cabinets Cleaning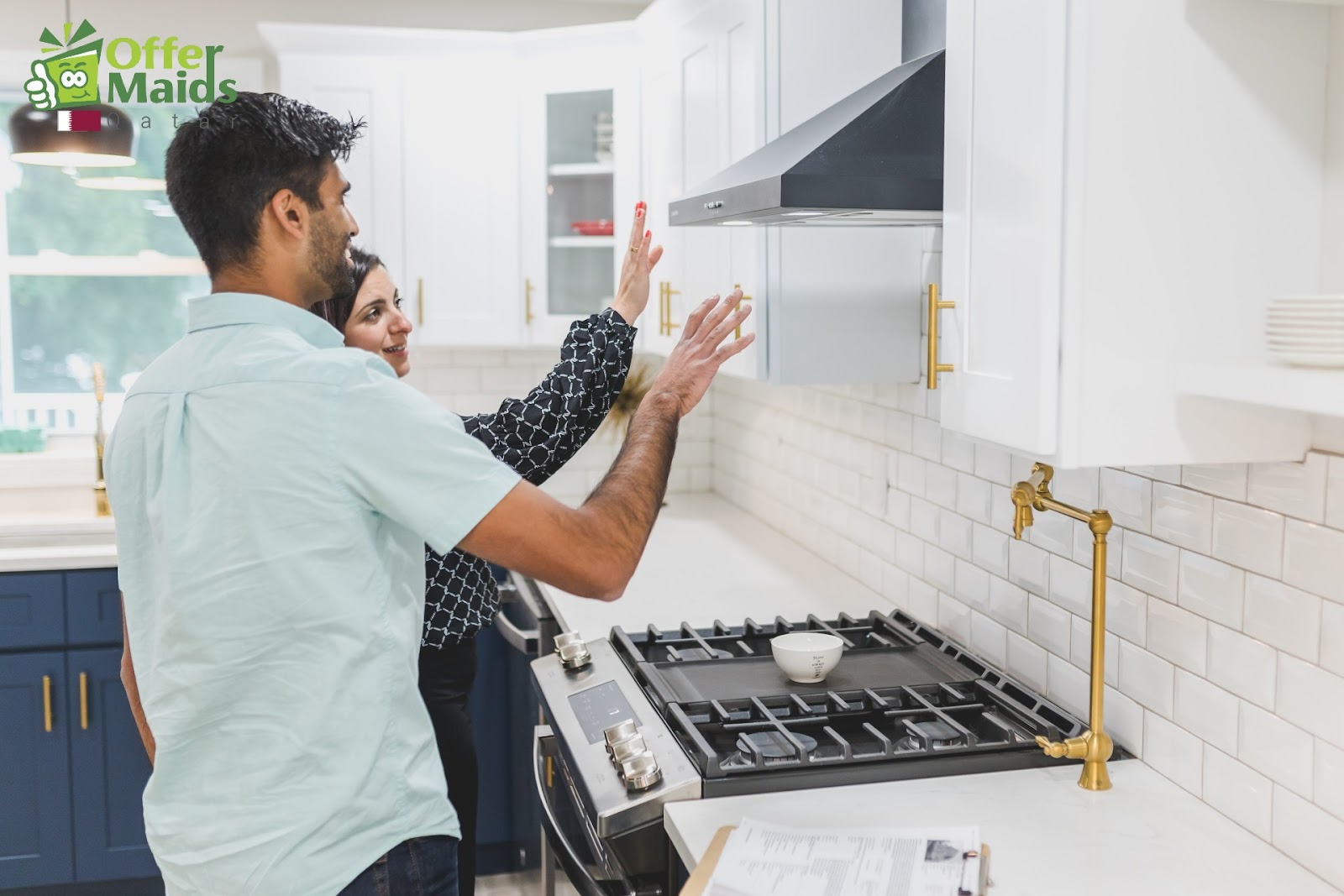 Cabinets are the main areas of almost every kitchen, so when they get dirty, everyone can easily identify them. Normal fingerprints, food splits, and watermarks are usually the main causes, but tougher mold can build up over time. The kitchen cabinets need to be cleaned properly from top to bottom with a bar of soap and water. You also need to ensure the knobs are always clean. If you are looking for a budget-friendly cleaning service in Qatar for your home, get in touch with our team now!
Contact OfferMaids Qatar for kitchen cleaning service and various other cleaning services.