Introduction:
In the bustling business landscape of Qatar, maintaining a clean and inviting office space is crucial for creating a positive first impression on clients and providing a healthy work environment for employees. To achieve this, you need a reliable office cleaning company that understands the unique demands of the Qatar market. In this comprehensive guide, we'll walk you through the steps to choose the right office cleaning company in Qatar, ensuring your workspace remains clean, professional, highly productive, and engaging.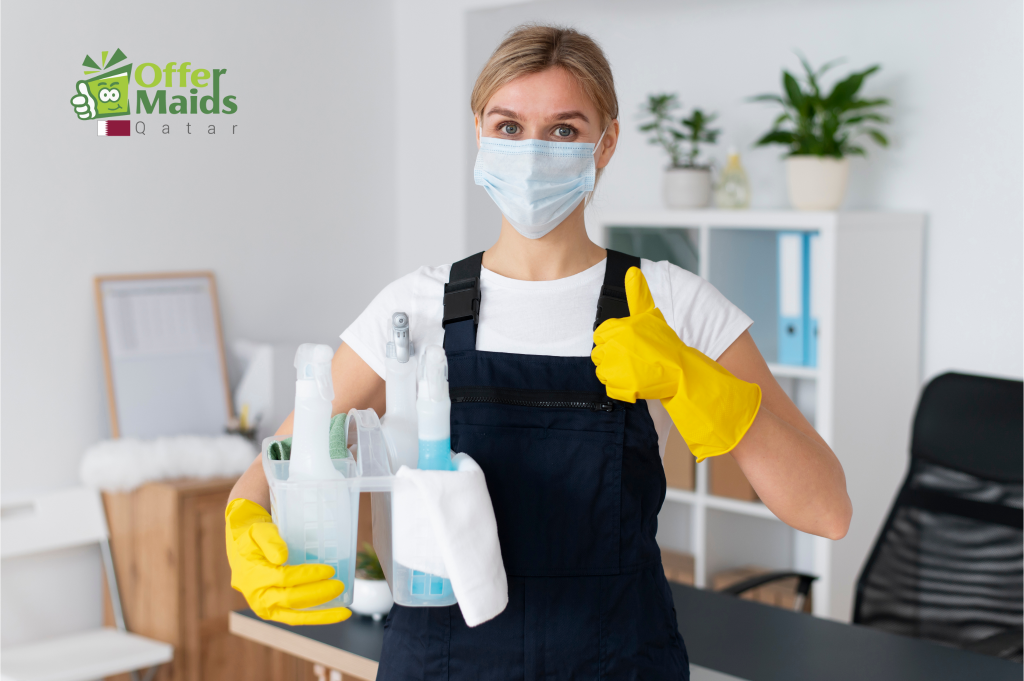 Why Your Office Should Be Clean?
In this section, we will discuss why keeping your office clean is essential in a place like Qatar:
Overall Health and Well-being of Your Employees:
 Office cleaning services eliminate germs and dust from the office, promoting a healthy environment for your employees, which, in turn, increases productivity. An unclean environment can lead to stress among employees, so hiring the best office cleaning company in Qatar will yield positive results.
Professional Image in Front of Your Clients:
A clean office leaves a positive impression on your clients and visitors, enhancing your professional image and potentially boosting your business's revenue. Consistent office cleaning is crucial for achieving this.
Employee Satisfaction Is Guaranteed:
Studies have shown that employees in clean offices are more satisfied and happy than those in unclean ones. A clean workplace fosters punctuality and overall job satisfaction among your team members.
Compliance with Regulations:
In Qatar, strict health and safety regulations apply to workplaces. Hiring a professional office cleaning company can help you ensure compliance.
Choosing the Right Office Cleaning Services in Qatar.
Now that we understand the importance of office cleaning, let's discuss how to select the best office cleaning services in Qatar:
Define Your Cleaning Needs:
Begin by identifying your specific cleaning requirements. Consider factors such as the office size, cleaning frequency, and any specialized services like carpet cleaning or window washing. Make sure to prepare everything before the cleaners arrive, paying particular attention to sensitive areas like bathrooms and pantry spaces.
Research Local Cleaning Companies:
When searching for an office cleaning company in Qatar, conduct thorough online research to identify the best companies. Read customer reviews to understand the quality of their cleaning service. You can also seek recommendations from friends, family, and fellow business owners. Ensure the cleaning company you choose uses organic cleaning products to maintain a healthy environment for your employees.
Check the Credibility of the Cleaning Company:
Always verify whether the cleaning companies you're considering are licensed and insured. Ensure their cleaning staff are well-trained, equipped with the necessary office cleaning equipment, punctual, and have undergone background checks.
Obtain Quotes from Various Cleaning Companies:
Request pricing quotes from several office cleaning companies in Qatar. Compare the pricing and payment options to select the one that best suits your needs and budget.
Discuss Terms and Contracts:
Carefully review the terms of the cleaning contract, including cancellation policies, payment schedules, and any potential additional fees. Ensure that all terms are transparent and that there are no hidden charges.
Consider a Short-Term Contract initially:
For testing purposes, consider booking the cleaning service on a short-term basis. If you are satisfied with their performance, you can then opt for a longer-term contract.
Final Thought:
Remember, a clean office is not just an expense; it's an investment in your business's future in the dynamic and competitive landscape of Qatar. Choose wisely, and your clean workspace will be a testament to your commitment to excellence.
If you're ready to make the right choice for your office cleaning needs in Qatar, reach out to us as we are the best office cleaning agency in Qatar and embark on the journey to a cleaner, healthier, and more professional workspace. Book now and check out our other services as well.