"That's the only thing you can do with a mess. Start cleaning it up, a little at a time."
                                     -Lisa Wingate, Former Journalist and Author
Dealing with clutters, cleaning the bathroom, approaching stubborn kitchen grease spots and organizing messy kids' rooms is burdensome and challenging for most of us. Is there a way to get rid of these dreaded cleaning burdens? Sometimes all we need to do is some hacks to convert tough jobs trouble-free.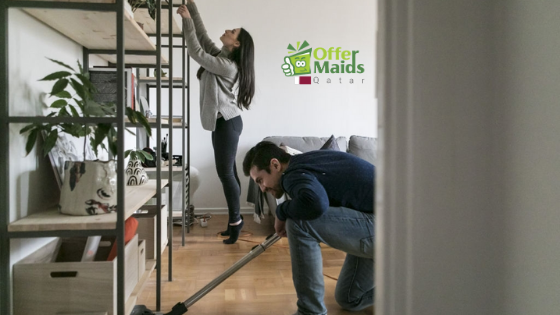 Transform your cleaning nightmares into a spotless home with these amazing hacks by the best cleaning company in Qatar to make cleaning easy-breezy.
It is recommended to clean your microwave at least once in a month to get rid of any odour. Also this will help to maintain good taste to your food. There are a lot of things available in the kitchen for this purpose. Here are few of the super hacks which you can save a lot of money in cleaning your microwave.
Mix the  juice of a lemon and half a cup of water. Place it inside your microwave and cook it for at least 2 minutes. Once the oven gets steam inside, simply wipe it down. This will remove all the dirt deposit and disinfect your oven and also make it odourless. You can also add a few drops of vinegar for this purpose instead of lemon juice.
Disinfect your cleaning sponge
Cleaning and disinfecting your kitchen sponge is very important in making them germ free. It is important to  clean your kitchen wipes and kitchen sponge on a regular basis. Here are some of the hacks to disinfecting your kitchen wipes and sponges. Soak your kitchen sponge in water for some time and  you can microwave the wet sponge for a minute and then rinse it off. This method will help to kill any bacterias in the cleaning sponge. Or you can simply keep your kitchen wipes or sponge in boiling water for a few minutes to make it germ free. You can also use vinegar for disinfecting purposes. Add one part of vinegar to 4 parts of water and sock the kitchen wipes in this solution for 5 minutes and then you can wash it with cold water and rinse it off.
Give a scrub to your bathtubs
Like you do an exfoliating body scrub for yourself, your bathtubs also need a scrub to make it look like new. You can use any citrus fruits for this purpose for example, lemon, grapefruit, etc. will work well. You can also sprinkle some salt onto it to make it more effective. For porcelain bathroom accessories, you can simply use a mild dishwashing liquid or any liquid to get the dirt and germs away from it. You can reuse an old toothbrush to scrub away the grout deposit between the bathroom tiles. Put some soda bicarbonate into bathroom bins after emptying them to get rid of viruses or bacterias in it.
Deodorize your garbage disposal
There are a lot of hacks to deodorize your garbage disposal. Crush 3 or 4 ice cubes and mix it with 2 spoons of rock salt. Put this mix inside your garbage disposal to get rid of the foul smell inside it. You can mix equal parts of baking soda and vinegar and use it inside your garbage disposal. This will help from the foul odours. Another easy method is that you can simply use hot water and soap solution to remove the odours from garbage disposal. Follow any of the above hacks to deodorize your garbage disposal in a most effective way.
Handheld dusting equipment will help to keep the blinds dirt and dust free. You can simply use a dust attachment vacuum to your blinds to keep them dust free. Make sure that you are using the lightest setting for this purpose. Wipe your blinds using a microfibre cloth or an old clean sock for this purpose. To remove grease marks from blinds, sock the blinds in warm water and soap solution for a few hours and then wash it with normal water and dry it off before refixing your blinds. It's important to start at the top of the blinds when you clean, otherwise, dust will fall on areas you've already cleaned.
It is essential to disinfect your kids' bath toys to make them germ free. The simpler way to clean the bath toys is by washing it with soap and water instead of using cleaning agents or chemicals to kill the germs. Another method is that you can add half a cup of white vinegar in a bucket of water. Now soak the bath toys in this solution for about 10 to 20 minutes. You can use a sponge to rub off the dirt if any residues remain on it. After that clean the toys with clean water and dry it off.  
If your fridge stinks, it is important to deodorize and clean your fridge regularly. Turn it off and empty the fridge before you start cleaning. Mix some baking soda in lukewarm water and use this solution to wipe the drawers and shelves inside the fridge. This will help you clean the dirt and also remove the odour inside the fridge. Cut down a lemon and keep half of the lemon inside the fridge to eliminate odors inside the refrigerator. You can also squeeze the juice of a lemon and keep it in an open container. Coffee powder also helps to absorb unpleasant smells. To produce a fresh smell, add a few drops of essential oil in cotton wool and keep it inside the fridge.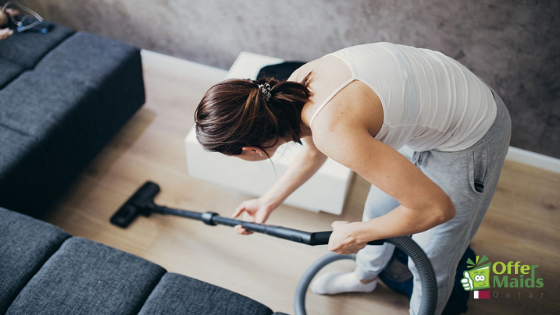 Professional Kitchen Cleaning Service Qatar can ease off your cleaning job 
Hiring a professional kitchen cleaning service Qatar offers you many benefits. Offer maids house cleaning Qatar, the best cleaning company in Qatar, relieves your cleaning stress. Offer maids provide expert hourly maids in Qatar for house cleaning, window cleaning, kitchen cleaning, laundry and ironing, office cleaning and party helpers and pet care services across Qatar. We provide reliable and trusted maids who are well trained and are experts on their profession. Make cleaning a breeze with Offer maids.