Cleaning windows is one of the most important parts of cleaning. A clean window reflects how clean the house is. Window cleaning can be a daunting and hectic task, but with a few simple hacks, you can make the process much easier and achieve sparkling results. In this blog, we will share some easy and effective hacks to clean your windows at home. These tips will save you time and effort while ensuring your windows shine bright. Or else if you are looking for the best house cleaning services who also do window cleaning in Qatar then you can opt for OfferMaids, the leading cleaning company in Qatar with excellent cleaning services.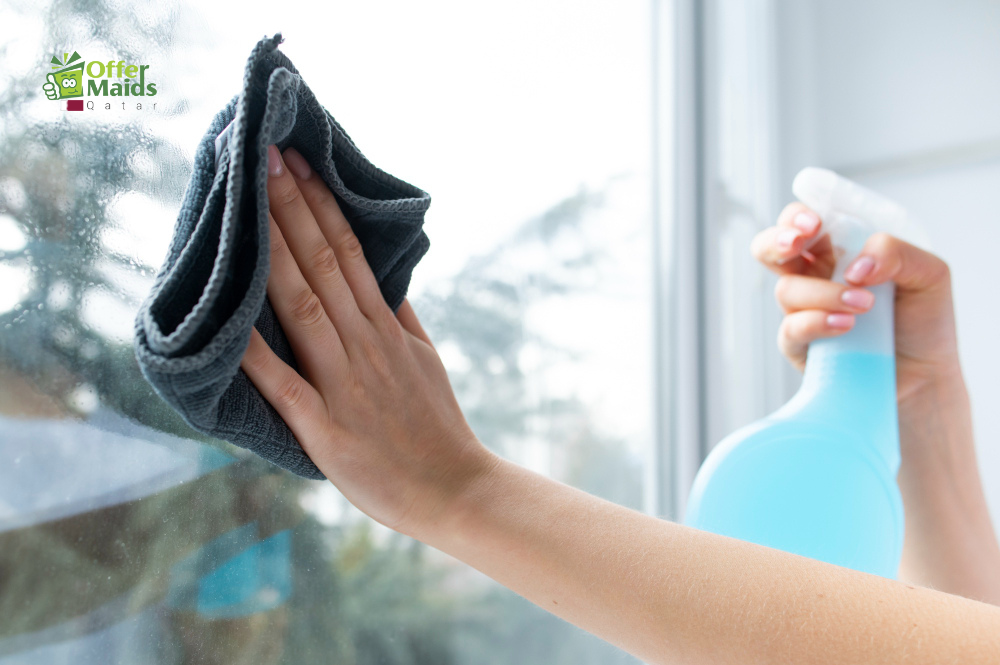 Listed below are some tips or hacks that will help you while doing the window cleaning:
Use a Microfiber Cloth:
One of the easiest and best hacks for cleaning windows is using a microfiber cloth. These microfibre cloths are designed to trap dirt and dust without leaving streaks behind. Dampen the cloth with water or a mild cleaning solution and wipe the windows in a circular motion for a streak-free finish. This is one of the simplest hacks and before dampening the cloth in water make sure that you have cleaned the dust from the window or else the window will get streaky.
Homemade Window Cleaner:
Another helpful hack where you can prepare the effective window cleaning solution at your home, so that you can save money from buying a solution from the store.
For preparing the solution you need to mix equal amounts of white vinegar and water in a spray bottle. Vinegar is the best natural cleaner that can effectively cut through grease and grime on windows. Spray the solution onto the windows, let it sit for a few minutes, and then wipe it clean with a microfiber cloth to get the best result.
Newspaper Trick:
You might be surprised to know that newspapers are a fantastic tool for achieving streak-free windows. Using a newspaper, wipe the glass in a circular motion after cleaning the windows with a cloth or sponge. You can remove stubborn streaks from your windows with the ink and texture of the newspaper.
Squeegee Magic:
A high-quality squeegee can make all the difference when it comes to cleaning windows. Start by spraying a mix of water and soap or your homemade cleaner on the window. Then, beginning at the top, draw it straight down with the squeegee, wiping out any extra water with a cloth between each pass. This technique leaves your windows streak-free and is quick and effective.
Clean Window Tracks with Vinegar:
Window tracks are susceptible to grime buildup. Grab an old toothbrush and soak it in white vinegar to handle this. Gently scrub the tracks to remove any remaining debris, and then wipe with a cloth or paper towel. Use a solution of vinegar and baking soda for additional cleaning power on tough spots.
Sock Trick:
Here's a quick tip to help with the tiresome chore of cleaning blinds. Put an old sock over your hand and submerge it in a mixture of water and vinegar in a 50/50 ratio. Dust and filth can be rapidly removed by running your hand along each slat. For a comparable result, you can also use a feather duster or a microfiber cloth.
Conclusion:
With these easy hacks at your disposal, cleaning windows will become easier than ever before. But if you are still keen to get a professional touch and make the window sparkle then just book the house cleaning services in Qatar from Offer Maids, where our professional and experienced maids will do all the cleaning including, window cleaning, kitchen cleaning, etc.