How to Prepare Your Office for a Special Event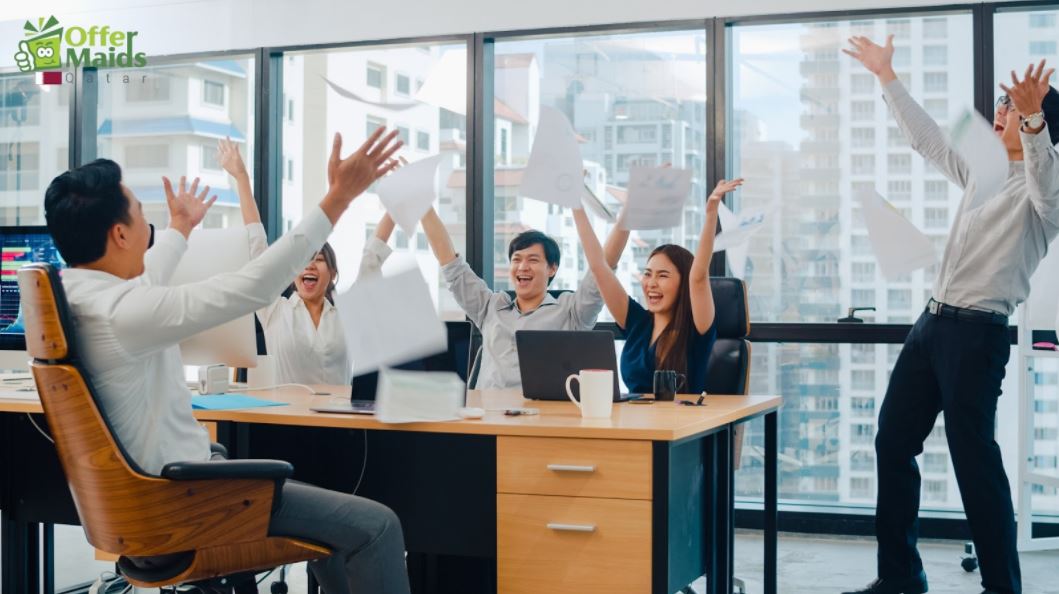 Events and occasions are very important for all kinds of businesses. That helps the employees to have an amazing time by taking a break from the regular work and socializing with their coworkers in a thrilling ambiance. Hiring an Office cleaning service in Qatar is a great way to do the cleaning for your office. Cleaning is essential to make the occasion remarkable and let your employees and their guests know how much you value them. However, to ensure the party goes well some work needs to be done, and a major part of it starts with an office cleaning. The professionals at commercial cleaning companies in Qatar will bring a bunch of things you will need to prepare your office for a glorious occasion.
Select The Right Party Area
Our professionals at Offermaid Qatar highly recommend choosing one specific area to conduct your party to reduce the mess and also to avoid a requirement of deep cleaning the entire office after the event. Choose the right space based on the number of guests, the type of food and beverage, seating arrangements, and a dedicated area to mingle and socialize. However, you should also consider reserving the room with the office administrator and ensure to give yourself plenty of time for organizing and breakdown if the area is used for any other purpose.
Hire An Office Cleaning Team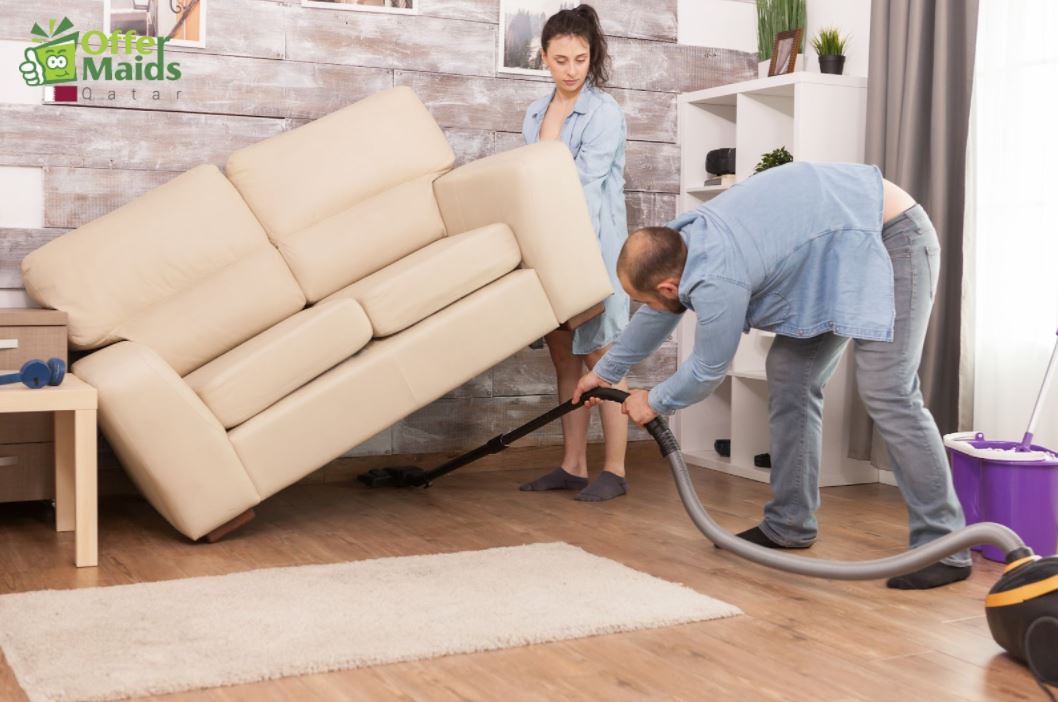 Have your team review the space where the event going to be hosted and decide if any arrangement is required such as decluttering, seating arrangement, or any other add-on. Allocate cleaning work to ensure all spaces are well cleaned and sanitized. Moreover, If you have an office cleaning service in Qatar, book the service prior to the event date and let them do some extra deep cleaning.
Pre-Event Cleaning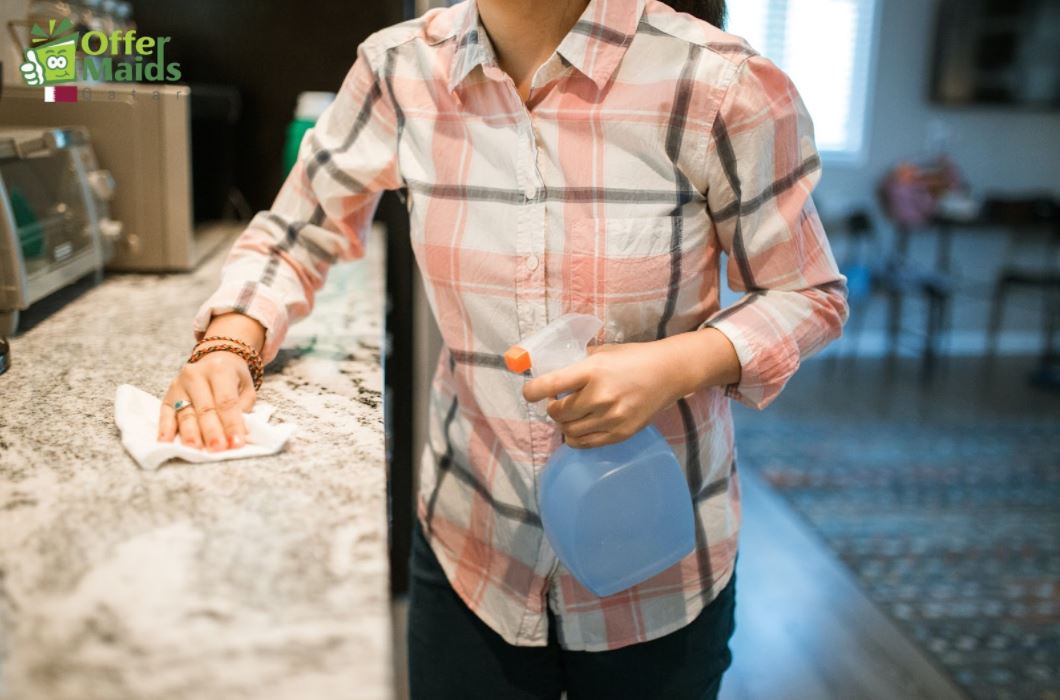 Before the day of the event, check the area to ensure the space is clean and tidy. The area should be dirt-free, organized, and convenient. Also, don't forget to clean the windows. The pantry area should be sanitized and wiped down. Make sure you have sufficient lighting to organize the event and replace any lightbulbs that are no longer working. Add more trash bins in the most convenient space for people to easily use them. You can even use disposable plates for serving food and beverages. Also, using a disposable table cloth can simply fold up the dining cloth once the event gets over and throw it away, making the cleaning process much easier. However, you should also make sure to clean up the office refrigerator before the party so the co-workers have plenty of room to store their beverages and food items. Moreover, they can also have enough space to store the leftovers. If you have don't have enough time, hire an office cleaning service in Qatar. Our maids can take care of things, ensure everything goes well, and while you can work on the main event.
Serving Food and Beverage During the Party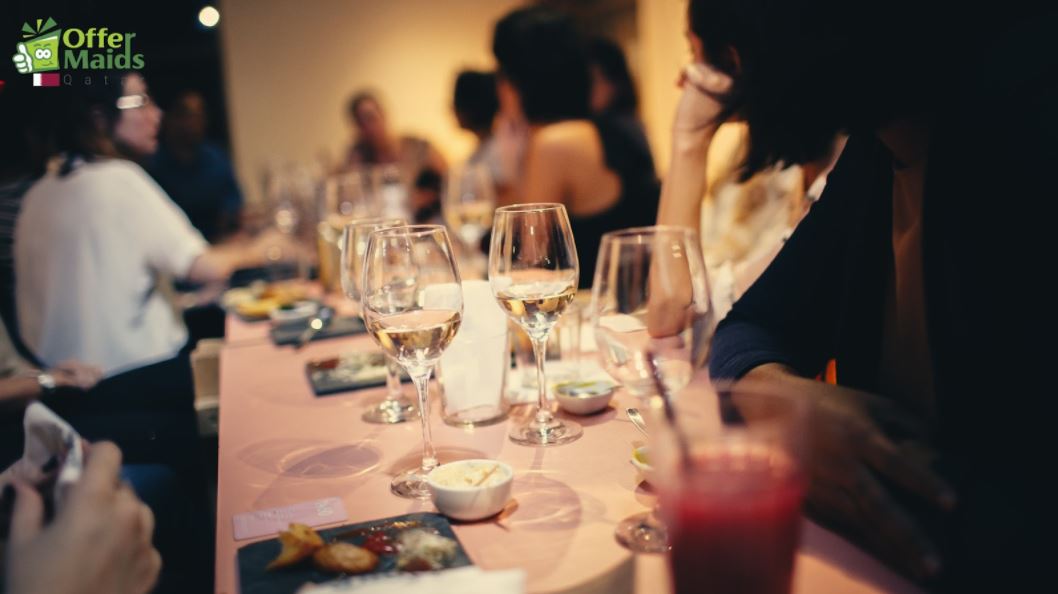 Once you set up everything, you have your office ready to host an event. To smoothly run the event you need to take care of spot cleaning the food and beverage space during the entire event. Having enough trash cans is important, having a dedicated trash can based on the kind of wastage, and disposing of food trays effectively is important. Also, make sure you have spare garbage bags, paper towels, and spot cleaner to clean up any spills that happen during the event. However, based on the size of your event and the number of people participating, it may be good to have a dedicated commercial cleaning company in Qatar to run the event smoothly. They will make sure have all essential cleaning tools including, mops, and towels that helps to clear messes or accidents spills are cleaned up quickly.
Post-Clean up
Once the party gets over and your visitors started leaving, it's time for the post-event clean-up. Hiring a commercial cleaning company in Qatar for the post-party cleanup can be cost-effective and time-saving when compared to office staff cleaning up. Our experienced maids have access to tools and cleaning supplies that allows them to work effectively in larger areas in less amount of time. However, doing the post-clean-up by yourself is a good idea and you follow these to make the job easier.
Collect large clutter together and place it into recycling bins.

Clean up all of the trash into the dumpsters before the event begins.

Wipe down all the leftover liquids from tables, tables, or floors.

Properly take down the holiday decoration and keep them in larger containers to use for future events. However, discard all decor you do not want to store.

Clean the floor mats for spills or stains.

Remove any stains on the spot on furniture or carpets.

Clean and disinfect washroom facilities and pantry areas.

Clean all carpets and mop the entire floor.

Wipe down and sanitize all horizontal surfaces.
Call us today for a free quote: +974 33583388.
Happy Holidays from our team here at Offer Maids.