Introduction
Cleaning your house or your work premises is a very important task and a tedious one also so most of us sometimes may not get time in the fast-paced life of Qatar so it's better to hand over the cleaning task to a maid agency when you are in Qatar. Cleaning services in Qatar have become an integral part of every citizen day to day life in Qatar Now the question arises: How to select the best maid agency in Qatar? You all must be having this doubt and through this blog, we make all your doubts clear. 
The best maid agency will follow all the ethics with all the latest trends and technologies in cleaning your house and premises and will be always trustworthy.
Here we will discuss the best traits of cleaning companies in Qatar.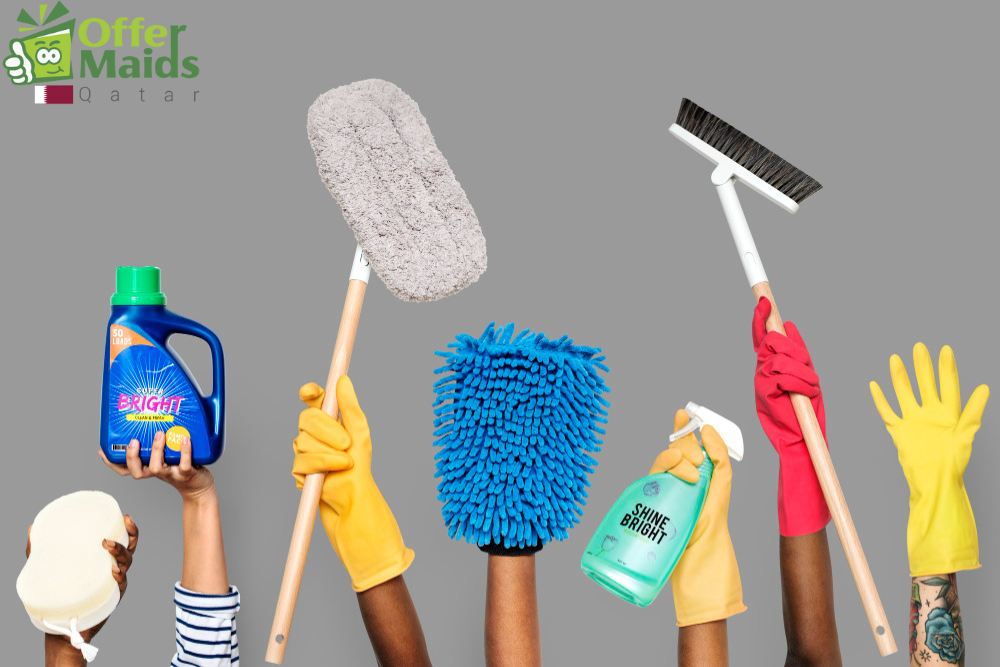 Qualities of the best cleaning company in Qatar:
When you are selecting the best maid agency in Qatar make sure to discuss with them each and every aspect of their work with respect to your requirements. Best cleaning companies in Qatar will always have a well-trained maid and staff and they will make sure that the job is done properly. Since a house has an office has many areas it is important to clean each and every area very well.
The best cleaning company in Qatar will provide all types of cleaning at an affordable price whether it's your office or home.
The services provided by the best cleaning companies are as follows.
House cleaning
The Best

maid agency in Qatar

will clean your home completely from the kitchen to the toilets through deep cleaning techniques and the latest technology the cleaning services include sofa cleaning, dusting and

mopping

etc 

The maids from the best cleaning company will make your house as new as ever.

The maids hired should have very good behaviour and a very thorough background check should be done to ensure the safety of your customers.

The maids should be skilled in their work.
Window cleaning 
Whether it's your home or office a building looks perfect when its windows are cleaned properly and are in good condition 

A good maid agency in Qatar will make sure that all the windows of the home and office are cleaned properly so that it does not have a bacterial growth and gives a shiny touch from both outside and inside.

Professional window cleaners

are able to handle all the windows with utmost care compared to others and a top maid agency in Qatar will offer only professional window cleaners

Professional cleaners take all sorts of safety precautions while cleaning a window from a height rather than a newbie.

A good maid agency will provide both professional and residential window cleaners as per our requirements.
Kitchen cleaning services in Qatar 
    A kitchen is a place where food is cooked so it must be taken care of with utmost perfection because an unclean kitchen will directly affect our health. An office kitchen and a home kitchen both have the same negative impact if not taken care of properly.

A good maid agency in Qatar will see to it that all the deep cleaning methods are applied to your kitchen cleaning when they start their work and they make sure that no germs grow in them, especially in the sink.

The service provided by the best cleaning company in Qatar in

kitchen cleaning

will be exceptionally good at an affordable price.
Laundry and ironing services
Sometimes doing laundry can be exhausting and tiring so most people prefer to hire a maid agency in Qatar.

clean and tidy clothes are always a must when you live in a society and in a place like Qatar it really needed 

The best maid agency in Qatar will see to it that the

best laundry and ironing services

are provided to all the people at an affordable price and people are satisfied 

Laundry and ironing services play a very important role in a citizens life in Qatar 

The maids are extremely reliable and have good knowledge in washing and ironing the clothes.

 Half of your burdens are over if you give your laundry and ironing services to better cleaning services in Qatar.
Office cleaning in Qatar
Suppose when you are coming in the morning and you find that your office is unclean, will you be interested in working in a dirty environment? Will your productivity increase? NO,

An unclean office environment will always degrade your productivity and the best maid agency will have all the productive solutions to make it clean and a healthy workplace.

Office owners should always have a detailed discussion with all

cleaning service companies in Qatar

before assigning them the work.
If you are in Qatar and looking for a cleaning agency contact us and check out our services we are the best maid agency in Qatar and will provide you services according to your requirements.
Conclusion 
Cleaning your house is always a part and parcel of human life and one should hire the best maid agency if they find to do the job by themselves.