A clean and well maintained office not only improves the health of the staff but also increases the productivity of the company. A cleaned office empowers the staff to work efficiently. So choosing the best office cleaning company is the crucial part as many factors need to be checked before hiring the office cleaning company. If you are looking for the best office cleaning company in Qatar. Then the best cleaning company you can approach in Qatar is OfferMaids. OfferMaids is the best maids service in Qatar who provides the best cleaning and maid services in Qatar with highly well experienced and professional maids.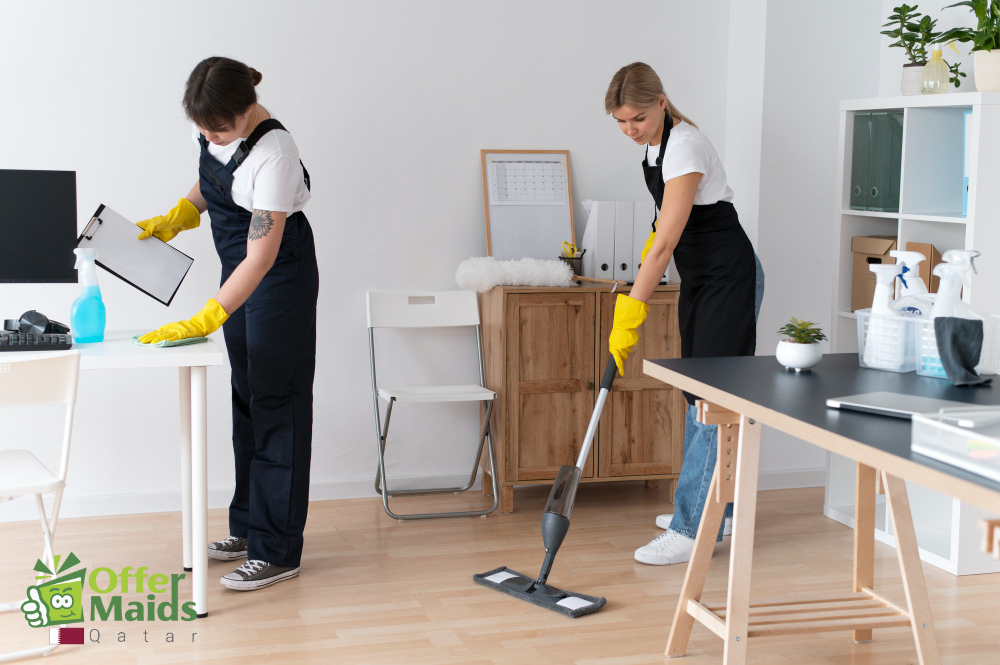 Best qualities that you should consider while choosing the best office cleaning company in Qatar:
Experienced:
Always choose the company with the right skill and experience in cleaning. An inexperienced cleaning company will have the least knowledge about how to clean the office and make their client happy and satisfied. Office cleaning is different from house cleaning. As office space is larger the office cleaning company should have an efficient and well experienced staff to carry out the cleaning process.
Quality Equipment and material:
Office cleaning companies should use the most effective cleaning equipment and employ trained employees to ensure successful results. Apart from the equipment the cleaning material also plays an important role in cleaning.  Quality equipment should be used for cleaning to get amazing results. One such best cleaning company in Qatar you can hire is OfferMaids who uses the right and quality cleaning equipment and cleaning material that is required for your office to make it shinier, brighter and clean.
Consistency:
It is an important factor while hiring an office cleaning company. Consistency in delivering a quality service to the client will play an important role. As this will showcase their work and make it easy for the new customer to hire them based upon their consistency. It is a hallmark for a great office cleaning company. OfferMaids always focuses on quality of the service and also the consistency of service so you can book the best office cleaning company in Qatar by OfferMaids.
Attention to detail:
A well experienced cleaner will always pay attention to detail. Where every nook and corner is cleaned. The work of a company that is knowledgeable about its practices and cares about its work will also be characterized by a close attention to detail. Among the tasks that need to be completed here are cleaning those often overlooked corners. Ensuring kitchen appliances are sparkling clean, and cleaning as well as sanitizing areas that need it. 
Also read Benefits of office cleaning to the employee.
Asking for feedback:
To ensure clients feel happy and all needs are met. The best commercial cleaning companies do not avoid feedback or constructive criticism. Instead, they seek out feedback to ensure clients feel happy. When it comes to your company's services, you should give your clients plenty of opportunities to voice your opinion. Asking feedback and working accordingly will play a great impact on the work. As the client will be impressed by your work and may refer your work with others. 
Well Organized:
Make sure the company you choose is well-organized. For cleaners to carry out their work under proper supervision, there should be clearly defined procedures. If you would like to know how they work, ask them to provide a process chart.
Offermaids is one of the most reliable and best cleaning companies in Qatar which provides a wide range of cleaning services like house cleaning, office cleaning, window cleaning, pet care, party helper, kitchen cleaning and laundry and ironing. OfferMaids focus on the quality of service at an affordable rate.