Tips from hourly maids in Qatar to maintain your marble flooring glassy smooth and spot free.
Marbles are an excellent choice for flooring because of its exquisitely smooth texture and beautifully variegated look. Using marble flooring can bring an unmatched, pure classy elegance to your home. Calacatta, Emperador, Carrara –  Marbles have an assortment of choices that suit your unique exigencies which lay a brilliant sienna to your la la land.
What are Marbles?
Marble is a delicate and porous metamorphic rock, resulting from the metamorphism of sedimentary carbonate rocks such as limestone or dolomite rock which is composed of calcite or dolomite. Some cleaning agents can bring a shine to the marble flooring but can be too acidic or caustic on the marbles as they are natural stones and using harsh chemicals may permanently damage the floor finish.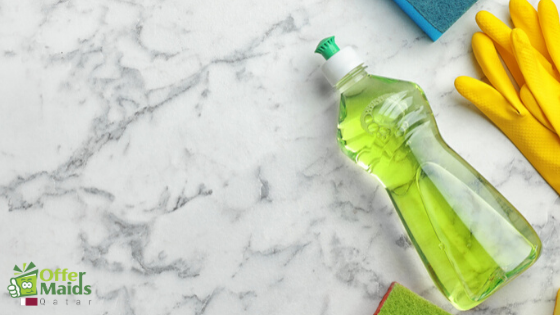 "Your marble flooring deserves an extra care"; says maids in Qatar
We use a lot of green household cleaners like vinegar and lemon, to chemicals like bleaching powder and ammonia, which are cheaper and easily available and are best for household cleaning. They may be excellent cleaners for household cleaning but they can damage your marble flooring as marbles are porous and natural. Here are tips from the hourly maids in Qatar for an expert floor cleaning.
Use a highly

diluted mixture of pH neutral products on your marble floor.

Sweep away debris using a mop to prevent debri deposit in marbles. 

Use a marble shampoo or products that are specially designed for cleaning marbles.

Use a household cleaner for cultured marbles that are non abrasive.

Dish washing liquid diluted in water will also work for marble cleaning.

Always use 0% HCL acid free products.

Keep using an acid free heavy duty cleaner.

Use a marble cleaning spray which is mild on marbles.

Use a marble polisher for your floors and counter tops.

Clean spills right away with plain water to prevent staining.

Use soft cloth instead of scrubbers.

For cultured marbles, a nylon bristled brush can help you in scrubbing.

Tough stains can be cleaned by using a poultice.

Vacuuming is not necessary as it may cause scratches on the surface of your flooring.

Make sure you seal the marble.
Restore shine to your marble flooring
These methods can restore and add shine to your marble flooring.
Deep Cleaning

Marble Polishing
Cleaning companies in Qatar for deep clean your marble flooring
When it comes to floor cleaning, hiring a qualified cleaner can offer you many advantages. Most people hire a janitor for floor cleaning but they may not be properly trained and hence you can't expect an expert cleaning from them. Using wrong products and techniques may damage your floors forever. Be choosy in selecting the right cleaner for floor cleaning.
Advantages of hiring professional cleaners
Hiring a professional cleaner can help you deep clean your marble floor, hence removing all the stains, without damaging the floor. Deep cleaning your flooring removes contamination. It also reduces the chances of making the floor slippery. It will also diminish the possibility of frequent cleaning sessions and adding a bright shine to your flooring.
A professional cleaning service can give your home a better cleaning effect and a long lasting luster. They require low maintenance. Professional cleaners know all the expert techniques, along with their expert equipment to fully remove dust and allergens and to keep your floors gleam for a longer period of time.
Professional cleaning service helps in Qatar you with a germ free and hygienic home. They provide advanced cleaning equipment to make your floors sparkling bright. A well trained cleaner or maid knows which product will be the best suit for your marble flooring and they can ensure safe cleaning to your house with guaranteed expert protection for your house.
Sometimes removing scuffs is a strenuous job. Products like nail polish remover can help to remove scuff marks from flooring. Some people use baking soda solution to remove scuff marks but they may not always work for natural stones like marbles and can damage them. A professional cleaner knows the perfect solution to remove scuff marks from your flooring.
Professional cleaners have highly skilled employees with advanced machinery to provide marble and granite floor polishing services. A polished floor will be easy to clean and the shine lasts for a longer period. Floor polishing gives a better appearance to the flooring along with increased durability, making them non slip and ease of maintenance.
Home cleaners can help you with removing the stubborn stains and grease marks from your flooring and making them spotless. Stubborn stains need an additional effort to remove them completely from the surface. Unlike other surfaces, we cannot use harsh chemicals or too caustic products on the floor to remove stains and grease marks. Here relying on a professional cleaner can make your job very easy.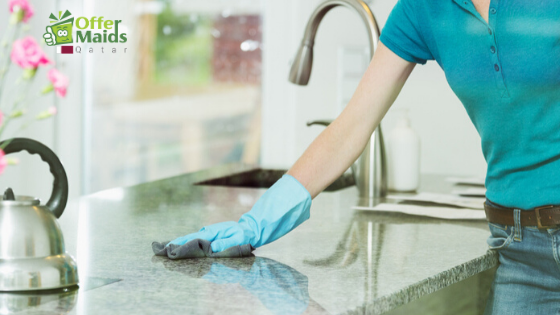 Knowledgeable about cleaning products
An expert cleaner will be highly knowledgeable about various cleaning products, techniques and cleaning equipment. They know what is the right product to be used on each surface. They can also help you with a healthy cleaning by using non toxic cleaning products. Each surface has a list of to be used and not to be used products and using them wrong may damage your floor.
In our work life balance way of  living, hiring a cleaning service in Qatar will be honestly useful. You can spend time with your family while cleaners make your home feel and smell good. They provide you detail oriented cleaning which assures deep cleaning. You can hire a cleaner at your preferred time which allows convenience. 
Offer maids in Qatar to deliver a prime cleaning experience
A smooth and enough magnificent marble finished floor can bring a charismatic look to your house, which makes it more tempting to your guests. In Offer maids, we have highly skilled and trained hourly maids in Qatar to help you keep your marble flooring look perfect, polished and spotless. Apart from floor cleaning, we deliver high quality cleaning services for your windows, kitchen, laundry, after party and office. We are also well known for our excellent pet care services in Qatar. Choose us for an amazing cleaning experience in Qatar and enjoy a prime cleaning experience with Offer maids in Qatar.