Say goodbye to the headaches of moving-in and moving-out
We have all had to move houses over the years – growing up in one home and moving out to a new home when you start working are important phases in all our lives. But we can all agree that the time between deciding to move out of your old home and settling into the new home was pretty exhausting, to say the least. There would be boxes everywhere before you move, and on the day you move, some of these boxes would end up getting left behind. In addition, the week after you move into your new home would be total chaos – trying to find your belongings in the heap of boxes that never get unpacked.
It is a good idea to hire professional home cleaners in Qatar during this time to take care of all your moving-time cleaning so that you can focus on maintaining your daily routine without interruptions. Here are some of the best tips from cleaning companies in Qatar to ensure that the moving process is less stressful for you.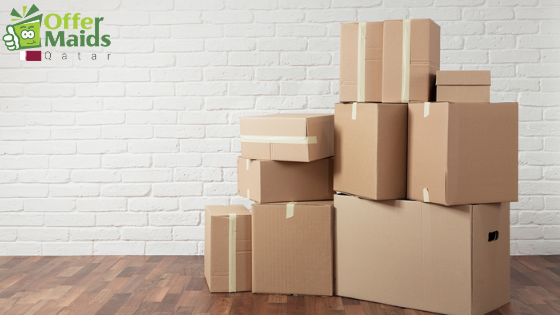 Arrange professional services
Moving can be hell on your daily schedule, especially when you have kids involved. Hiring sitters, coming home from work and hauling boxes can be unsettling and downright dreadful. Get professional moving services to pack up all your belongings and move them to your new home more efficiently. House cleaning services Qatar are specially trained to ensure that your old home and new home are properly cleaned during the moving process so that you are never around dust and pollutants.
Planning the move
Schedule the moving process to coincide with a weekend, so that your timetable is not disrupted. Also, you can get friends and family to help out so, win-win. If your new home is within driving distance, go over once before moving day to check out the route and the traffic.
Before moving to a new home, you will need to sort through everything in your old home and decide what you will need to bring to your new home. List all items according to their decreasing frequency of use. The essentials, like furniture, basic cooking utensils and such need to be packed and moved first, so that you can settle into your new home more easily.
Also, ensure that your furniture and appliances fit in the new home if you are bringing them over from your old home. Similarly, take some time to review service providers in the new locality beforehand.
Changing address
Apart from the relevant authorities, you will need to ensure that your address is updated with your daily service providers and other important parties. With the widespread use of technology, you don't even have to go around to all the business offices to change your address anymore. Now you can update everything online, or if possible, take a little time off to call the post office, newspaper delivery, healthcare providers and utility agencies to ensure they are notified beforehand of the change. It would be a good idea to notify your old neighbor to watch out for your mail at your old address, in case you forget to update anyone.
Get your house in order before moving
Restrict all the packing to a single room. Because the alternative is stumbling into random items packed and left around the house. All the small items that need to be packed can be brought into this room and packed together, avoiding any rummaging around for spare packing boxes at the last minute.
Kitchen
You will need to empty the refrigerator the week before moving day. This way, all perishable food items can be taken care of beforehand, avoiding any wastage on the last day. Get house cleaning services Qatar to help you clean the refrigerator before you pack it up for your new home.
Appliances
Dishwashers and washing machines can be sent to your new home earlier than other items, since you would need them more often. Make use of disposable utensils so that you don't have to spend time cleaning dirty plates.
Those appliances that need to be moved to your new home need to be cleaned inside out. Hire home cleaners in Qatar to help you with this while you pack.
Utilities and services
Electricity, gas and water services need to be disconnected from your old home and registered to your new address. This is especially important when moving into an address that had previously been vacant. Ideally, there would be an overlap between the two so that your final days in your old home and the first days in the new one are devoid of proper lighting and sanitation.
Moving day
If you hired professional movers, you can forget about all the heavy boxes and just ride off to your new home. If you have pets with you, make sure you carry their food and emergency medicine as well as any favorite toys, to keep them occupied while you get settled. Just like your pets, having some of your personal belongings with you can bring a semblance of routine. Put these into a separate box while packing so that you don't have to go around unpacking ten different boxes on the very first day of moving in, just to take a bath.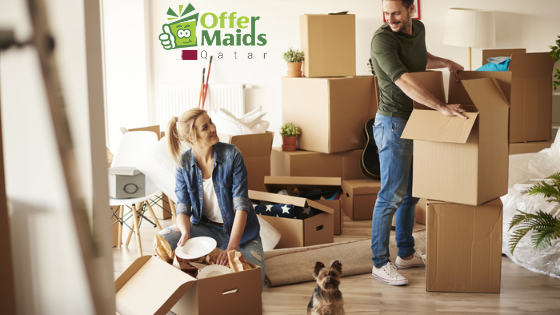 Professional move-in and move-out cleaning
Moving can be tough, especially when you are busy trying to find time to organize everything while shuttling between home and office. You may not have the time to get everything cleaned up before you leave your old house for the new one. And finding the right cleaning services for your needs can be quite challenging when going through the dozens of house cleaning services Qatar.
When you choose Offer Maids for your move-in and move-out cleaning, you are guaranteed exceptional cleaning that ensures your old home looks good as new, and your new home, even better. We deliver quality cleaning service to our clients at the best prices, so sit back and relax and let us do the heavy work for you.