Ultimate Christmas Cleaning Checklist
It is that time of the year again – Christmas trees and Santa hats are on sale in every store and carols play in the background everywhere you go. Christmas is here again, and with that, your stress levels are high as ever – planning the Christmas dinner, going shopping, getting nothing but the best presents for friends and family, well it goes on and on. Between all this, you need to get your home organized and ready to welcome guests. Even if your home looks like it hasn't been cleaned since last Christmas, we've got you covered. Here are some quick cleaning tips from leading maids services in Qatar so that your home is ready for Christmas guests.
Make a checklist
Yes, it's that simple, really. Having a general idea of what needs cleaning around the house will be much more helpful than running around on the weekend before Christmas when you are supposed to be out enjoying the festivities.
List all the places in your home that need superficial cleaning and those that need a little more elbow grease. Or better yet, clean one room at a time, thoroughly. This makes it easier to organize items from room to room, and also gives you the satisfaction of seeing a clean room each day, without hiring a maid agency in Qatar.
Living room Cleaning
The tree goes in the corner, the streamers across the living room, and before all this, the dust needs to go outside. The living room is where you need to focus all your cleaning efforts because that is where your guests would be spending most of their time. 
Furniture
Vacuum the furniture, particularly the little crevices where dust would settle in. Use the vacuum attachments to reach these spots better. Cushions and removable fabric on your furniture need to be thoroughly cleaned and aired. 
Shelves and display cabinets can be cleaned with a feather duster to remove accumulated dust. Boil 2-3 tea bags in water and soak a paper towel to wipe down glass -front cabinets and shelves.
Carpets
Removable carpets need to be properly cleaned to remove dust. If you have pets inside your home, it is inevitable that their fur and other allergens make their way into your carpets. Regular vacuuming can help remove such items from your carpets. Pests may also make nests on the undersides of your carpets sometimes. It is best to hire a professional maid agency in Qatar to help you out in such a situation.
Place a bowl of warm water with lemon slices in it in the living room table. Add some essential oils like lemongrass to give off a warm, welcoming aroma for your guests.
Kitchen Cleaning
Christmas dinner with the family is truly an important affair. As years of wisdom passed down the ages have taught us, it is a good idea to keep some space in your refrigerator for when the inevitable leftovers make their way back in there.
Counter tops
Before you go to sleep, sprinkle some baking soda over the counter tops and wipe down with a microfiber cloth. This helps prevent pests and germs from making their way into your food storage area. 
Appliances
Wipe down the exterior surfaces of all your appliances with a damp microfiber cloth. If there are any tough stains, soak the cloth in a bleach solution before wiping. For dishwashers and microwaves, using commercial cleaning agents might be questionable. Maids services in Qatar recommend running a cycle in the dishwasher or oven with just a bowl of vinegar inside. This helps engage dirt evenly inside these appliances so that you can scrub and remove it easily. 
Invest in a good range hood to remove cooking odors from your kitchen. You don't want your house to smell of fumes and grease during Christmas, and your guests certainly wouldn't prefer it either.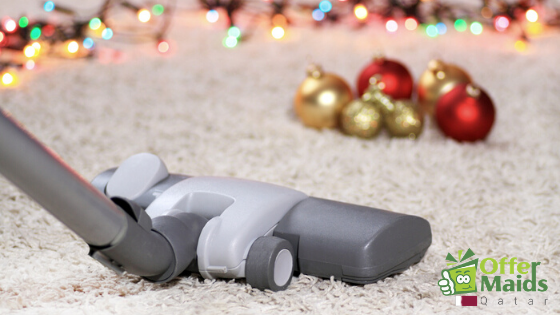 Bedroom Cleaning
With friends and family visiting you for the holidays, you will need to keep a couple of guest bedrooms ready. 
Ceiling and overhead fixtures
Dust accumulates in these places very easily unless regularly cleaned. Dust ribbons appearing unexpectedly on your bedroom floor can mostly be attributed to these often overlooked areas. 
Window cleaning
This is a general cleaning point, but bedroom windows need special attention. The dust and dirt on your windows reduce the amount of sunlight coming in, making your bedrooms appear dingy and lifeless. Less sunlight also means inconsistent heating around different parts of your house. Hire professional maids services in Qatar to clean your windows thoroughly, making your rooms appear more roomy and homely.
Bathroom Cleaning
Your guests don't need to see the toothpaste specks on your mirror or the grime on your faucets even if they are visiting for just a couple of hours. 
Mirror and sink cabinets
Mix vinegar and water in equal parts and soak a microfiber cloth in this to wipe down the sink surface. Use a paper towel to wipe the mirror with the same solution. A better option recommended by cleaning companies in Qatar is to use a coffee filter to reduce the lint from cleaning.
Toilet Cleaning
With a simple trick, you can clean up your toilet easily and keep it from getting dirty for a while. For the outside surface, mix baking soda, water and essential oils in a spray bottle and spray on the outside of the toilet. Mix vinegar and baking soda and pour it into the bowl. Let this sit for half an hour while you scrub the outside of the toilet. A quick scrub with the toilet brush will remove any dirt that remains, giving your toilet a fresh appearance. 
Faucets and shower heads
Chrome fittings tend to get stained pretty easily, and removing them can be quite a challenge without harsh chemicals. Maids services in Qatar recommend trying this handy tip before you start scrubbing. Mix vinegar and water in equal parts in a plastic bag and tie it around the faucet or shower head. Leave it on for a couple of hours while you deal with the rest of the bathroom. The vinegar helps remove the tough stains, and all you need to do is clean it off with a dry paper towel it restore the shine.
Professional maids service in Qatar for the holidays
It is time for toys and time for cheer, but Christmas does not give you enough time to make a checklist and get to cleaning every inch of your home. When all seems lost, you can always call in professional maids services in Qatar to help you get your house in order before putting up the Christmas lights. If you are confused between the dozens of cleaning companies in Qatar, worry not, because finding the right company is the only difficult work you'll need to do.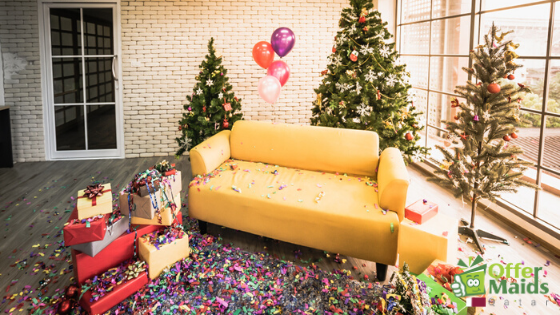 Offer Maids Qatar is your one-stop solution for all professional house cleaning services. We can get your home tidied up and ready for Christmas so that you can go shopping and enjoy the holidays. We provide exceptional cleaning services for all our clients, keeping your satisfaction above all else.