Clean Your Painted Walls Like Professional House Cleaners In Qatar 
          That beautiful pale red wall with your best-loved family postcards clustered, might be your favorite space in your home, but what about that tiny clear muddy paw prints a jump away, presented by the frisky pup you just adopted? Dirt and grime build-up, crayon masterpieces, watermarks, paw prints, kitchen grease – all of these can be a distressing headache for you. You might have tried oodles of options to get rid of them, but everything went in vain? Can't wait to cover up those irksome flecks? Don't worry. Here are those pro tips from professional house cleaners in Qatar.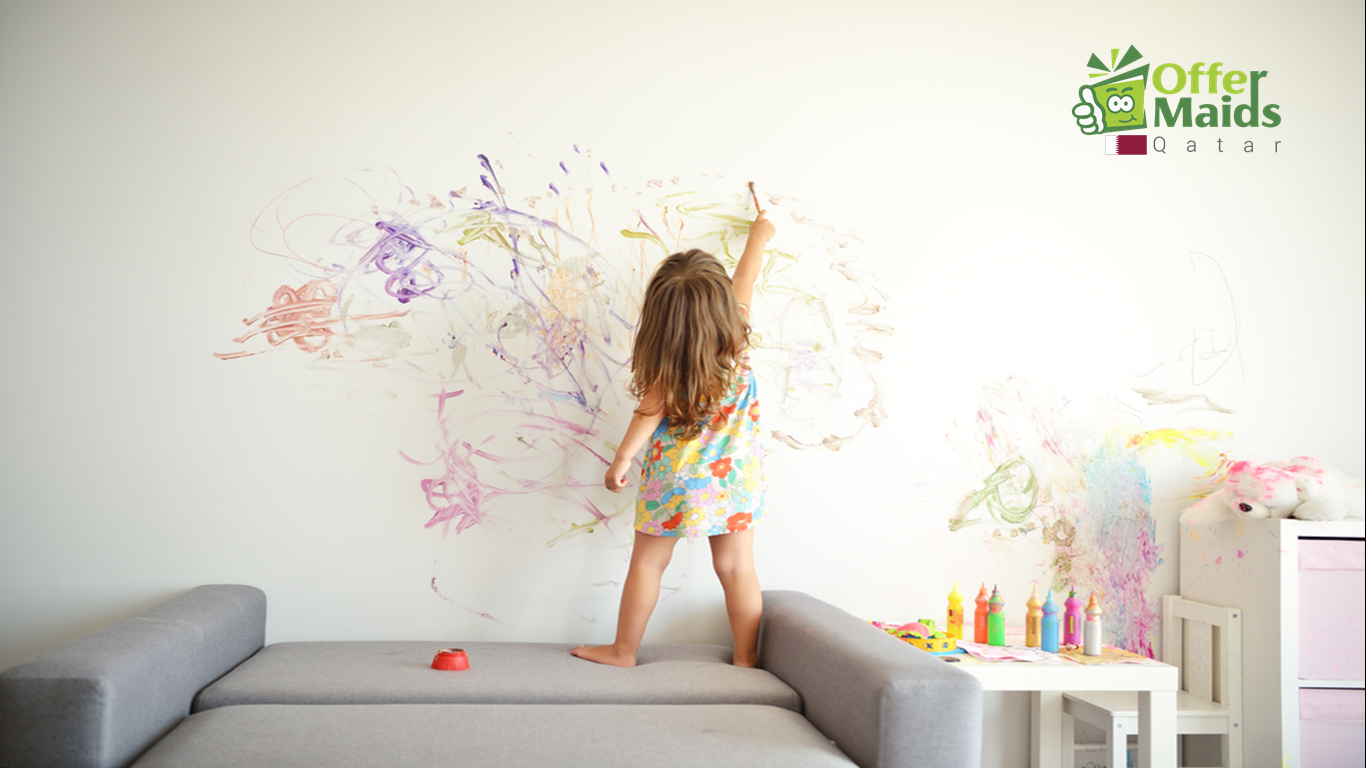 Beware! These antiheroes can mess up your wall
          Grease splatters residues in your kitchen are always epilating when it comes to cleaning. House cleaners in Qatar recommends to use a cleaning solution with a few drops of your dishwashing liquid mixed with warm water to remove greasy messes.
          Add half a cup of vinegar in half-gallon of water. Use a microfiber cloth to apply the solution to the affected area and wipe it off with a cloth rinsed in warm water.
          Vinegar can help you in removing the crayon marks from your walls. Vinegar contains acetic acid which breaks down wax and pigments and in consequence makes cleaning easy-peasy. Always do a patch test on a tiny area as it may not be suitable for every wall. Other alternatives such as non-gel-based kinds of toothpaste, baking soda, etc can help you just in case vinegar is sidelined.
          Dip a sponge in a solution with one part of bleach to three parts of water and allow the solution to sit on your wall for at least 15 minutes. Use another sponge dipped in clean water to pull out the soap solution from the wall. House cleaners in Qatar urges using Stain blocking primers to keep your wall stain proof.
          These stains can happen due to indoor air movement, air leaks, and heat loss. You need to discern the cause of thermal tracking (ghosting stains), seal it, and repaint the surface.
Dusting your wall
          Make sure you protect your furniture, carpets, and floor before you start dusting your wall. Cover them before dusting and if needed, displace them. Pay extra attention to clean up your wall corners to buzz off all the cobwebs from the corners. Use the right tool for the application. There are a handful of dusting tools available in the market. You could use a dry duster set, lambswool duster, motorized duster wand, a compressed air duster, a broom covered with a towel, a damp mop, an electrostatic dry dust cloth or a microfiber duster depending upon your requirement.
Know your paint before you start cleaning
          You can use a non-abrasive all-purpose cleaner or a mix of baking soda with water for removing stubborn marks. Gently rub the wall with a damp sponge dipped in warm water. Be cautious when handling light switches, electrical outlets, and telephone jacks, and make sure that you turn off the electricity. For other areas like wood panels, you can use rubbing alcohol to clean them up.
          A mix of white vinegar with water can be used as a cleaning solution for your oil painted wall. An ounce of borax added to half a can of water can be used to deep clean your texture painted walls. 
Understanding the nature of your wall finish
                 Wall cleaning can be put in your annual cleaning routine to revamp those fresh looking walls, keeping them dust-free and spotless. 
          Never use rough and gruff chemicals on your duller paint finishes like flat, eggshell, and satin finishes as it can affect the durability of your paint. Be mild while using a sponge to scrub off the dirt. Make sure you use a slightly damp sponge for application.
          Use a gentle degreaser on your glossy or semi-gloss finished walls. They are more durable when it comes to cleaning. You can do mild scrubbing with a soft sponge to scour off the dirt away.
          You can vacuum the wall before wiping the surface of the wall. Dip your sponge in a mild soap solution and wrung off excess water and use it on the surface. A vigorous solution can ruin the matte finish. Soft wipe your printed wall with a lint-free cloth. Matte finish paints may get scrubbed off easily after their first wash. Once cleaned, take a dry cloth to wipe off any dirt or water as watermarks can destroy the look. Be extra cautious while handling your matte finish.
          When it comes to cleaning your wallpaper, the first thing you'll need to identify whether it has a coating or not. Cleaning coated wallpapers are easier than cleaning a textured one. Uncoated wallpapers or wallpapers with a natural coating like leather, fabric, or reed can get easily damaged by the application of water. Clean a natural coated wallpaper with a wallpaper dough. You can effortlessly find a cleaning dough from the market. Kitchen wallpapers are exposed to steam, grease, and other dirt. Most of the kitchen wallpapers have a waterproof vinyl coating and are washable. For other wallpapers, give them a swift wipe with a soft damp sponge.
Why hire a 

professional house cleaner in Qatar

?
          Hiring professional house cleaners in Qatar can save a lot of your time on top of expert cleaning solutions to your requirements. You can find the best house cleaners in Qatar. Here are some of the decisive factors to contemplate when choosing cleaners for your house.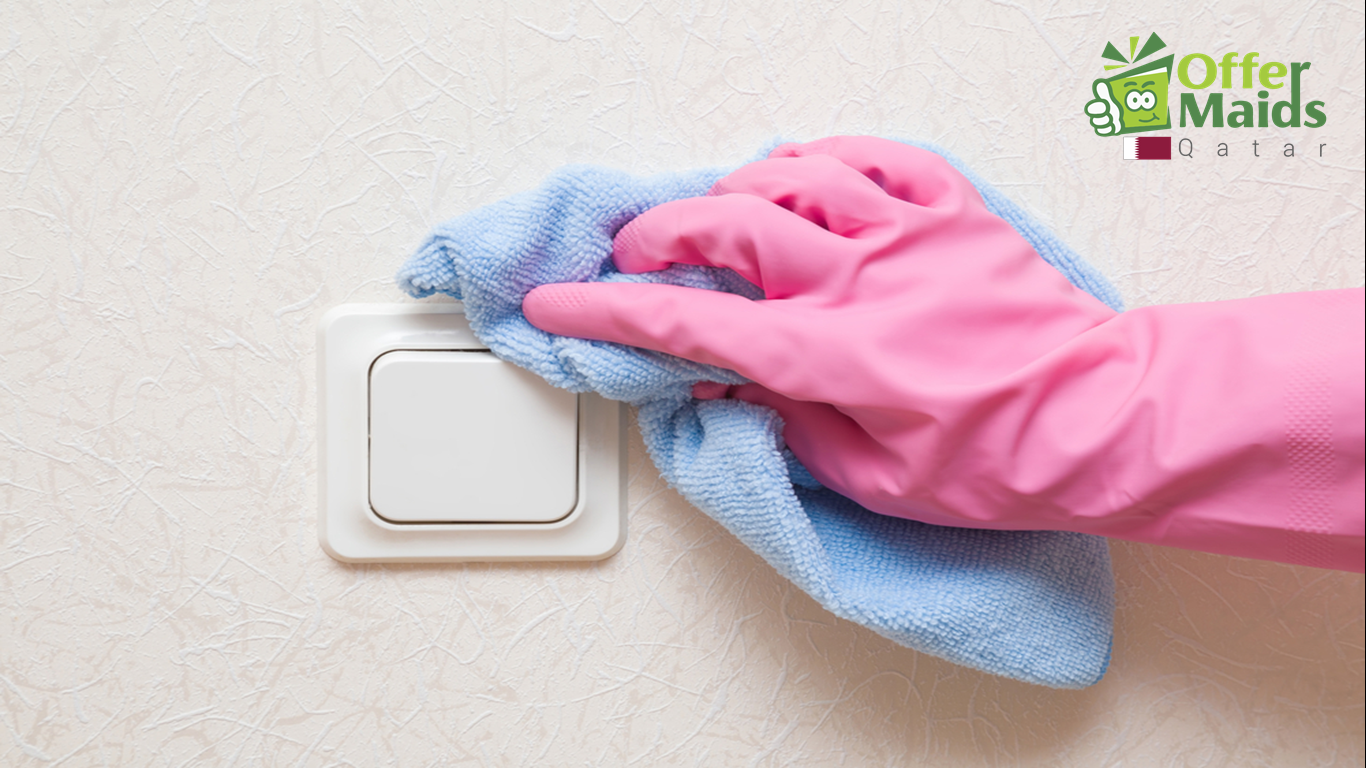 They are masters, so they do it well and right.
The cleaners are provided with the right tools for the right purpose.
They supply professionally trained, skilled, and background checked cleaners and maids.
Professional cleaning services aim at customer satisfaction, and provide you the best quality of service.
          Finding the best cleaning company in Qatar 
Confused about how to choose the best house cleaners in Qatar? Offermaids can be an excellent and prevalent remedy. We have certified experts for outright cleaning demands. Home cleaning, Laundry and Ironing, Hourly maid service, Office Cleaning, Party Helping, Pet Care, we do it all. We furnish comprehensive solutions for your cleaning needs, at affordable rates. Our quality services are built upon great and most extravagant customer satisfaction.