Cleaning Companies In Qatar To Take Up Precautionary Steps To Defeat COVID-19 
This is really a hard time for all of us. The whole world is dealing with the outbreak of the pandemic coronavirus which is changing our lives. The novel virus spread has affected almost every continent except Antarctica. We know that Italy is surpassing China with the total number of patients and death cases reported. The number of affected cases are increasing in many countries including Qatar. The whole world are in a war against the spread of this new and unique virus. Self isolation is the best battlefield tactic one can adopt to survive in this global battle against non endemic COVID-19.
From quarantine, nationwide curfews, lock downs to travel bans, several countries are keeping diligent measures to protect their people from the community spread of the virus. It is our duty to strictly follow the health advice and information regarding coronavirus from WHO, CDC and other authorities to stay away from the virus. As happened in Wuhan, the virus can spread like a nuclear chain from people to people and preventing this spread is pivotal in the current scenario. Personal hygiene and environmental hygiene is equally crucial to prevent the malignant and community spread of coronavirus.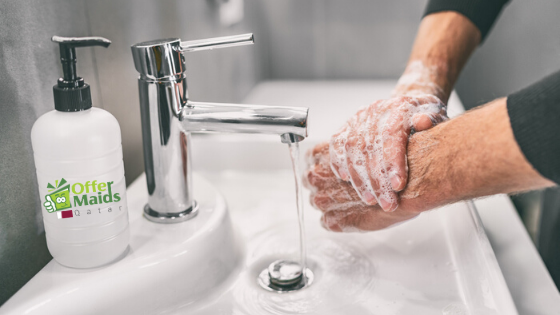 Frequent deep clean sessions and disinfecting processes are a must to eliminate the presence of coronavirus on any surface  and thus preventing its spread. Offer Maids, one of the most reliable cleaning companies in Qatar have implemented precautionary steps in taking into account the safety of valuable customers and hourly maids in Qatar. Most cleaning companies in Qatar are working as normal in this epidemic period to provide hygienic services seeing the thy most need for environmental hygiene during the novel coronavirus outbreak to assist the customers.
House cleaners in Qatar to deep clean your home
In light of this eon of coronavirus, it is extremely important to deep clean our home. Coronavirus can stay alive on different surfaces from a few hours to even days. The life expectancy of the virus can vary from one surface to another. Most scary thing is that the person who is affected by the virus does not show symptoms at that moment and the symptoms will slowly develop after a week or two depending on the patient's immunity level.
Hiring professional cleaning companies in Qatar is definitely a wise choice as you can avail the service of experts in their profession. They will help you to deep clean your home and they can guarantee a pristine and virus free home. Along with cleaning, disinfecting is equally important as it kills viruses or germs from surfaces by using chemicals.
Areas which are prone to frequent touch needed to be cleaned with extra attention. Also areas like kitchen and bathrooms deserve a deep cleaning session. As they can be shared spaces which can easily become carriers of diseases. Choosing the right cleaning service in Qatar can help you deep clean and disinfect your home the expert way. They also assure the safety of their maids and other staff by adopting safety measures. Thus closing every door for viruses by providing a healthy and spot free home for you and your family.
Your security is Offer Maid's topmost priority
To deliver the highest professional standards and ensure the safety of our clients as well as our staff, we, Offer Maids in Qatar, strictly follow a set of safety measures against COVID-19.
Our staffs are well educated about the need to maintain hygiene and the safety precautions to follow.

We make sure that all our maids are equipped with masks, gloves and hand sanitizers.

Following the hand washing steps recommended by WHO is very important to kill coronavirus. We have installed hand sanitizer dispensers in our vehicles and also, we've trained all the staff with hand wash steps.

All our staff have been trained about the proper way to sanitize their hands. And we make sure that they sanitize their hands before and after each cleaning session.

Also the accommodation facilities of our maids have been properly disinfected and sanitized.

We have taken measures  to properly disinfect and sanitize our staff vehicles. Also  we make sure that areas of frequent contact are regularly sanitized.

Before and after every shift, our supervisor will record and monitor the temperature of each staff member.
In Offer Maids, we make sure that we are following every safety instruction provided by the World Health Organization (WHO), Centre for Disease Control and Prevention (CDC) and also the Government of Qatar. We are working with deep social commitment to wipe away the virus from our nation by providing regular cleaning services to our customers understanding the increased demand for cleaning and disinfecting due to the novel coronavirus outbreak here.
We value the safety of our clients as well as our cleaners and have a strict policy towards coronavirus prevention. This will be strictly followed in the client locations, staff accomodations and our office premises by our staff. Apart from these, we are assisting our customers with various cleaning blogs. Here is the link to our previous blog which we think will be helpful in adopting some healthy habits to fight the spread of coronavirus. Let's Fight Against the Worldwide – Coronavirus with hourly maids in Qatar
Offer Maids in Qatar is one of the top high principled, steadfast cleaning companies in Qatar. We provide undocked cleaning services in the field of residential cleaning and commercial cleaning in Qatar. Our exclusive services include office cleaning, kitchen cleaning, window and balcony cleaning, pet care services and party help across Qatar.