How To Cleverly Organize Your Makeup Clutter
Cleaning services Qatar about how to cleverly organize your makeup drawers.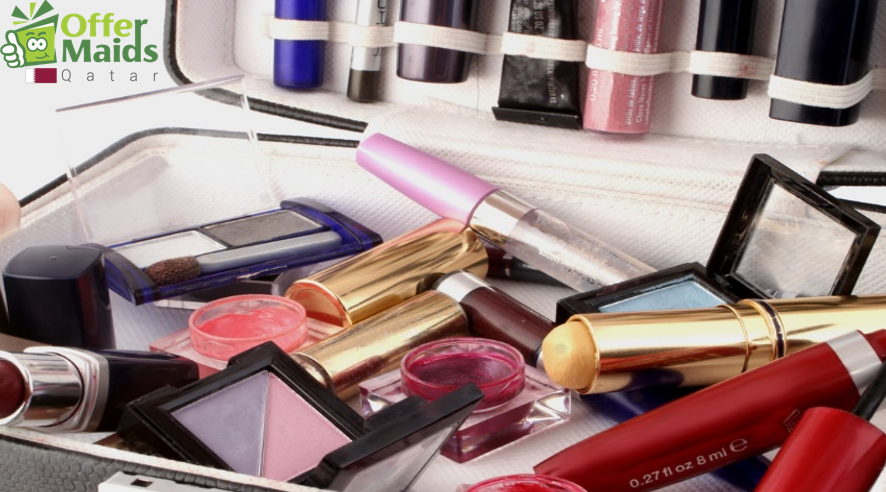 Do you feel like your makeup drawers are untidy and overflowing that you take ages to find your favorite cosmetics? Despite having a small or big stush, searching for things from a cluttered drawer can seem daunting. Having an organized makeup drawer helps you to find your cosmetics easily and keep things in place without taking effort. Here is your step by step guide to keeping your makeup drawers clean, disinfected, and well organized. Before you start the work, grab a set of plastic containers to keep things by keeping an ordered structure that skillfully compliments your beauty habits.
Empty the drawer
This is the first step towards organizing your makeup drawer. Empty each and every product from the drawer. Once everything is out, you can dust the drawer, wipe it using a clean cloth. You can use an all-purpose cleaner or a mild cleaning solution to wipe the drawer. Once it is cleaned, use a disinfectant spray to disinfect the drawer space. By the time gather all the products in one place and dig out everything that's hiding in your travel pouches or purse. Open all the secondary drawers and make sure you took everything out from your makeup drawer.
Sort your cosmetics
Once you have everything off the drawer, it's time to sort and separate things. Place everything on a white cloth and group similar cosmetics together. When you group the products, recollect when you bought them. Check the expiry date of each cosmetic product and discard those which are expired. You may still have some products in good condition which you don't like to use. It is a good idea to donate such items. Now sort the items by their category. Some cosmetics are for occasions or evening looks and some for everyday usage. You can also separate them according to their usage. 
Find a prominent spot to keep products you use often
This is the most useful category of your cosmetics. According to cleaning services Qatar, the products that you may need every day have to be kept in an easy to access location. Hence, to keep them, you need to find a more prominent spot that is easily accessible for you. You can also make an essentials kit to keep such items. Instead of keeping things according to their purpose, keeping things according to their usage is the best way to keep them organized and in an easy to access way without cluttering up your makeup drawers.
Use a drawer liner
Use a plastic liner or a colored paper as a drawer liner and place it at the bottom of the makeup drawer. To prevent the drawer liner from sliding or moving around. If you use a non-skid liner or a liner with a good grip, it will hold the drawer divider in position. Before you fix a liner, you can use a tape to take measurements of how much length and width you need. Then, mark the measurement correctly on the liner, cut it out, and yes, your drawer liner is ready to use. Now place it inside the drawer.
Use transparent containers
If you use transparent containers, they will give you the best visibility for your cosmetics. If you can see the products clearly whenever you search for a particular product, you can find them easily without messing up the drawer. There are many storage containers you can easily find in the market or cleaning services Qatar recommends to reuse any old plastic or acrylic container to keep the cosmetics. Before you purchase a new one, make sure you take a count on the stock you already have and how much space you need to reserve to store products that you want to add to your collection in future.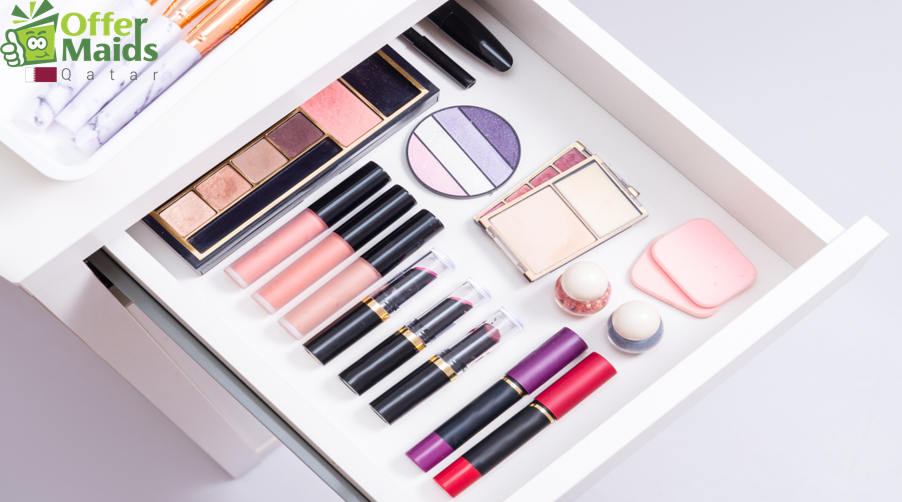 Regularly monitor your cosmetics
Cosmetics products can easily get exposed to dirt and microbes such as bacteria, molds, etc. once they are opened. These microbes will be able to grow if they get inside the products. Since it is difficult to avoid the entering of microorganisms inside the products, beauty products are added with preservatives to kill germs if they get inside the products. However, if the products get heavily contaminated, it can cause rashes, itching, and other allergies on the skin. Hence, maid services Qatar says that it is a good practice to regularly monitor your cosmetics and discard the expired ones.
Here are some of the average cosmetics expiration dates to help you with your organizing task. This may slightly differ depending on the products you use. This is an average lifetime estimation of cosmetics.
Powder cosmetics such as eyeshadow, compact, blush, and bronzer have 2 years shelf life.

Oil-free foundations, lipstick, lip gloss, and lipliner usually have a 1-year shelf life.

The shelf life of Pencil eyeliners is about 2 years.

Liquid, gel eyeliners and mascaras have only 3 to 6 months shelf life.

When it comes to cream-based cosmetics such as cream eyeshadows, blushes, cream compacts, and concealers, the shelf life is 12 to 18 months.
Add-on Tips
Here are some tips on how to store and correctly use your cosmetics according to cleaning services Qatar.
Keep the makeup products away from heat and direct sunlight.

When you are traveling, keep the cosmetics in your hand luggage. This will help to avoid exposing the cosmetics to temperature extremes in the hold.

The spatulas and nozzle caps that come with the cosmetics are designed to stop contaminating them with fingers or other things. So always use them.

Clean spatulas and brushes regularly.

Pump action products are designed to prevent air, dust particles, and microbes from getting inside the products. So always look for such products.

Never add other things like water to products to dilute them. Adding such things may change the balance of preservatives added to keep the product safe.

Always make sure you use clean hands on cosmetics.

Cleaning services Qatar suggests keeping the brushes in a jar with the bristles standing upwards.
Read Also: Bathroom Cleaning Hacks You'll Wish You Knew Earlier By Best Cleaning Company In Qatar
Cleaning Services Qatar You Can Trust
With years of professional cleaning experience, Offer Maids has become one of the prominent maid services in Qatar where you can find reliable maids to take care of your house and office cleaning. From window cleaning to disinfection services, we got you covered. So spend some quality time with your family and we will take care of your cleaning duties with perfection.