Bathroom Cleaning Hacks You'll Wish You Knew Earlier By Best Cleaning Company In Qatar
From time-saving bathroom cleaning tips to brilliant hacks, here is your guide on how to deep-clean your bathrooms from the best cleaning company in Qatar.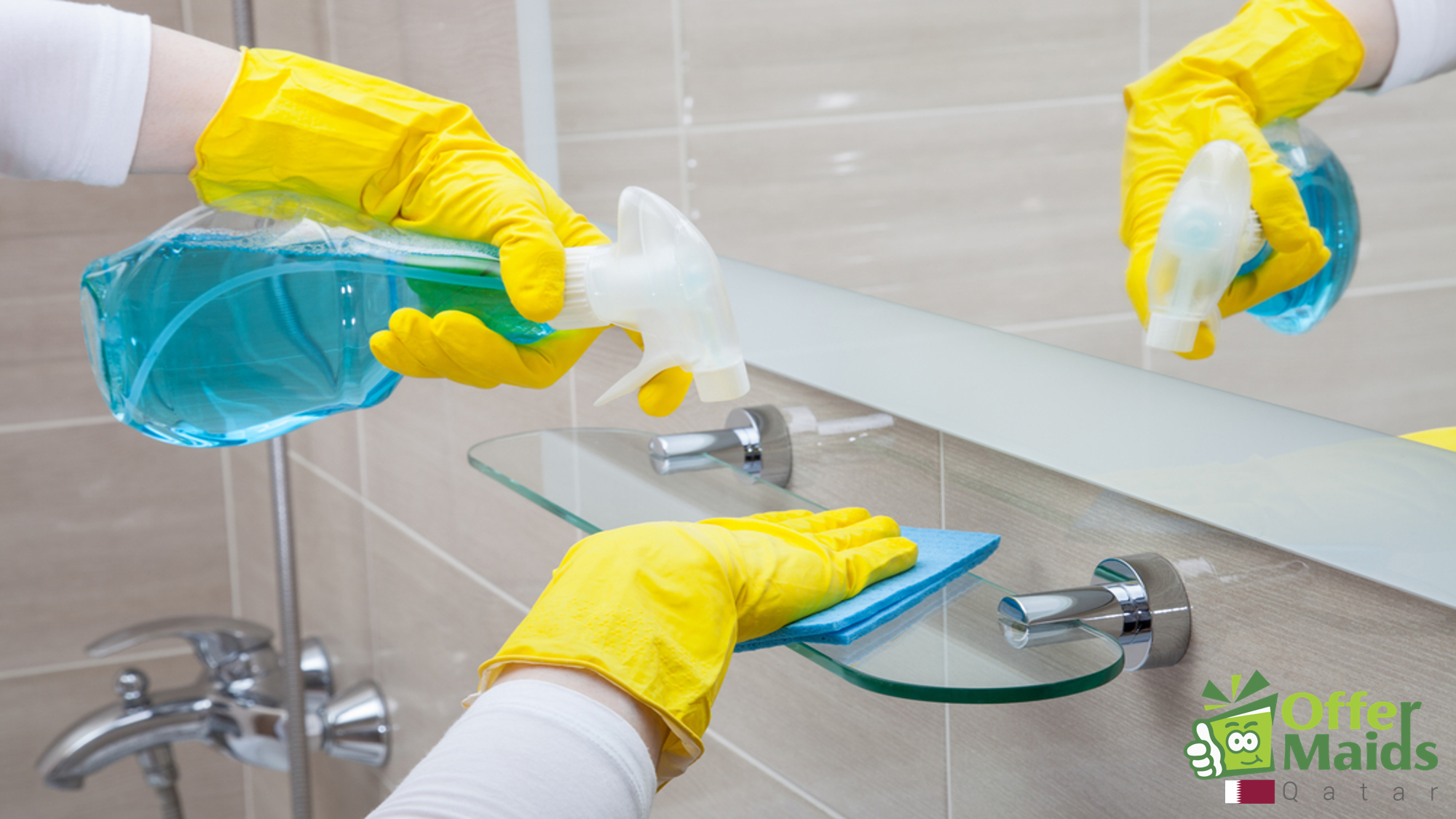 Since we depend on your bathrooms to keep us clean, do you think that the bathrooms need special attention? The showers, tubs, and sinks need to clean and disinfected regularly to keep them sparkling.
Do you know that the level of moisture inside bathrooms can populate microbes? Water, steam, and grime deposit inside the bathroom make it home to several types of germs including bacteria and fungus. Periodic bathroom cleaning can target lurking germs and thus keeping bathrooms clean and free from germs.
House cleaning experts in Qatar recommend deep clean bathrooms bottom to top every two weeks to get rid of dirt, grimes, and germs. Most importantly surfaces that are more prone to touch have to be cleaned regularly. For example, clean the door handle, sinks, and toilets every two to three days to keep them clean and hygienic.
Follow these quick tips and hacks from the best cleaning company in Qatar to keep your bathroom sparkling clean.
Start With The Sink
Do you know that the bathroom sink is one of the top places where you can visibly spot grime? The toothpaste buildup, hair stands, etc. can build grime inside your bathroom sink. To deep clean and disinfect the sink, use an all-purpose cleaner for this purpose. You can take a wet cloth or a cleaning sponge to wipe down the sink. Professional cleaners from the best cleaning company in Qatar advise wiping the sink when it is dry for easily removing grime. Once cleaned, you can use a disinfectant spray to disinfect your bathroom sink. For the faucet, you can also use a disinfectant wipe to wipe the surface to kill germs.
No More Soap Scum
Soap scum is another major issue you have to deal with while cleaning the bathroom. Add one cup of baking soda with a quarter cup of distilled white vinegar and mix it well to form a thick paste. Once the fizz stops, you can add the paste to the soap scum, let it sit for 15 to 20 minutes, and then use a scrubbing brush to scrub the soap scum off the tiles.
If you want to remove soap scum from glass surfaces, you can apply the paste using a sponge to glass surfaces and let it sit for 15 minutes. Then you can gently wipe the surface with a sponge and rinse it off with clean water.
Deep Clean Toilet Bowl
Toilet bowls need special attention to keep them looking white. It is important to keep the toilet bowl free of germs. Here are the tips by the best cleaning company in Qatar to keep your toilet sparkling white and free of germs.
Use a toilet bowl cleaner and apply it generously over the bowl. Let it sit in the bowl for five to ten minutes. You can use a stiff-bristled toilet brush to scrub the bowl to get rid of all the dirt. Flush it after scrubbing. Use a disinfectant spray or disinfectant wipes to disinfect the toilet seat. Make sure you dry the cleaning brushes after spraying with disinfectant.
Work On The Shower and Tub
Bath products, soap, oils, and shampoos can make your shower and tub dirty and add mold and mildew in your bathroom. Here is how to deal with those dirt deposits in your bathroom. Spray your bathtub with a generous amount of all-purpose cleaner and let it sit on the tub for 1 hour. By the time the cleaner dissolves the oils and dirt from the bathtub and you can clean it with ease.
Use an abrasive scrubbing pad to scrub the tub. You can also use an old toothbrush to reach corners and get the job done. You can use the detachable shower head to rinse it off.
Get The Shower Curtains Free From Mildew
Due to the moisture content in the bathroom, mildew can appear anywhere, even your shower curtains. To get rid of mildew in shower curtains, remove the curtains and soak them in saltwater for a few minutes.
Pour half cup of borax to the same amount of vinegar and add two cups of water in it. Pour the solution onto the mildew. Allow the solution to sit on the affected areas for 10 to 15 minutes. Then you can scrub the area with a sponge. Rinse it with clean water in order to remove any residue left on the curtain.
Read Also: Kids Closet Organization Ideas By Hourly Maids Services In Qatar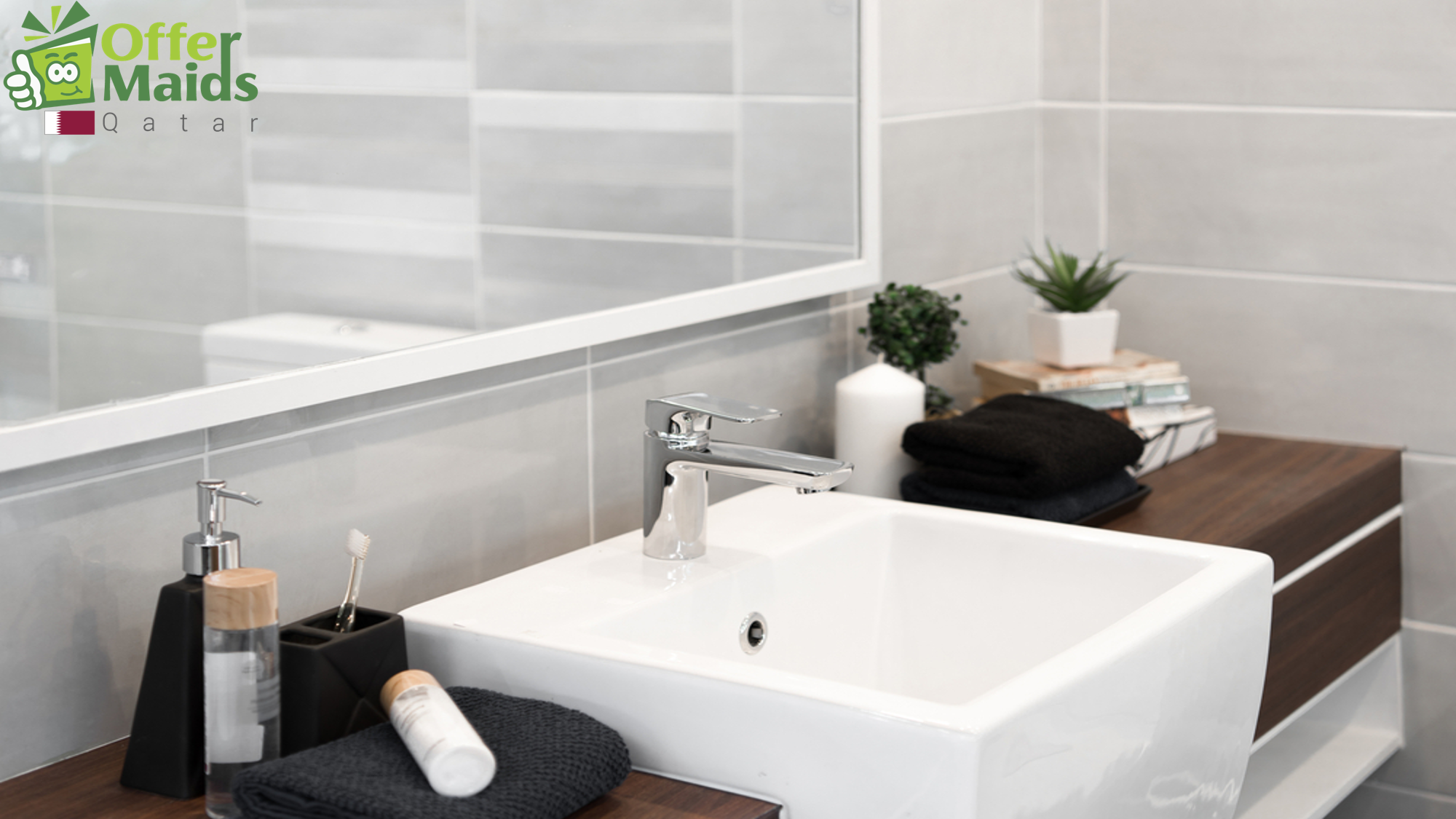 And Finally The Floor
Bathroom floors can easily get stripped of shine and you can use any bathroom cleaner to clear off the residues from your bath products that will dull the shine of bathroom tiles.
For dirty grout build up in the bathroom tiles, use a cleaner with bleach or add some bleach to your regular cleaner. You can use a scrubbing brush to scrub the grout with the bleach-based cleaner. Once the grout is removed, rinse it off with clean water. Using an adjustable steam mop also makes the job easier for you as it reduces a lot of elbow grease while cleaning bathrooms.
Hire Professional Cleaners From The Best Cleaning Company In Qatar
Offer Maids, one of the best cleaning companies in Qatar provides professional cleaners to take care of house cleaning and office cleaning in Qatar. We will make sure that we provide experienced maids who excel at what they do. We offer a full range of cleaning services to fulfill all kinds of residential and commercial cleaning. Hire reliable maids from offer maids and enjoy hassle-free cleaning at competitive prices.