Kids Closet Organization Ideas By Hourly Maids Services In Qatar
Here are the best closet organization ideas for kid's rooms by the leading hourly maids services in Qatar.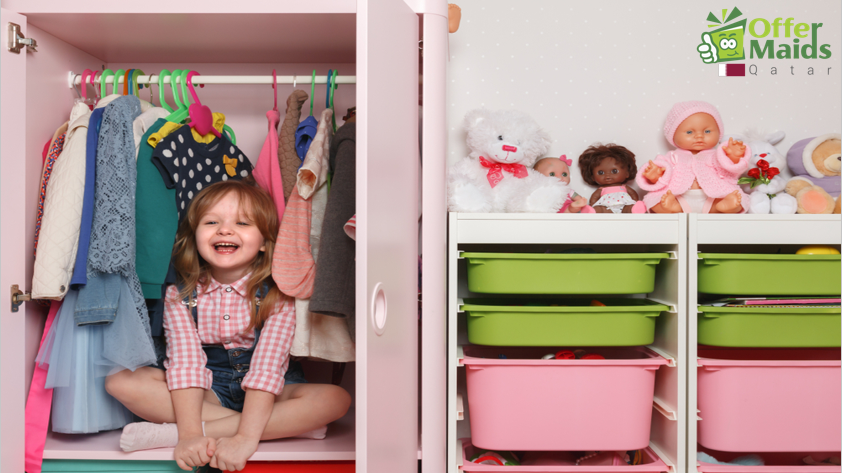 When you have children in your family, keeping your home clutter-free and organized could be a day and night job. Toys, books, and clothes can fill the house with clutter. Take control with these quick closet organization ideas by hourly maids services in Qatar to help you tame the clutter.
It is not just organizing your kid 's closet, but also it should be maintainable at the same time. 
You can transform the bottom space of the closet by adding baskets. Your little one can easily reach them to keep their toys, books, or other essentials.
1. Divide And Organize
A bit of advice by cleaning and organizing experts in hourly maids services in Qatar is to divide things and organize them. You can divide the space of your closet into different sections using closet dividers or closet organizers. These simple tools can keep things in place. 
Without sections in your closet, it's difficult to keep everything organized and your kid's closet can easily get messy. 
Closet organizers help to divide and subdivide your closet's storage space into different compartments that can easily fit your storage needs.
Why do you need closet dividers?
Add more space to your closet

Keep things in place

They save your time

 An organized closet looks attractive

You don't have to invest in more organizers
2. Keep Things Accessible
It's a great idea to keep things accessible to your little ones. Whether you use a wardrobe to keep clothes, books, or toys, keeping things accessible allows your little ones to be more responsible. Your little one can keep their books and toys at the designated space before they go to bed without messing up other space in their room. 
Read Next: 18 Quick Tips From Top Maid Agency Qatar To Declutter Kids Room
In this way, kids will be able to keep the essential in their reach. Instead of a dresser, you can also invest in a shelf unit in which things can be kept in a better, more organized way.
3. Use Closet Rods
Adding additional rods inside the closets can make them more spacious. Using closet rods in your kid's wardrobe or closets work really well in doubling the hanging space inside the closet. These rods are easy to install and they are available in multiple options. They can be easily adjusted to fit various closet sizes and openings. You can also get rotatable closet rods that are more flexible. 
Your little one can reach the below hanging space of their closet without taking help from others. It also prevents mess-ups inside the closet. Moreover, kids can develop organizational skills at an early age.
4. Hourly Maids In Qatar Suggests Adding Baskets And Containers
Adding baskets to your little one's closet controls the clutter buildup in their room. You can use multiple bins and baskets can accommodate a variety of items from toys to books. 
Incorporating multiple containers inside the closet will allow your kids to keep their little collectibles inside them. They can also hide those little valuables without messing up the entire room. You can also label these containers for easy access. Using transparent or see-through containers helps to easily identify what is inside without opening them. Hence, adding containers or bins is a great way to keep little things organized inside a kid's closet. It leaves other spaces free for clothes.
5. Leave Space For Toys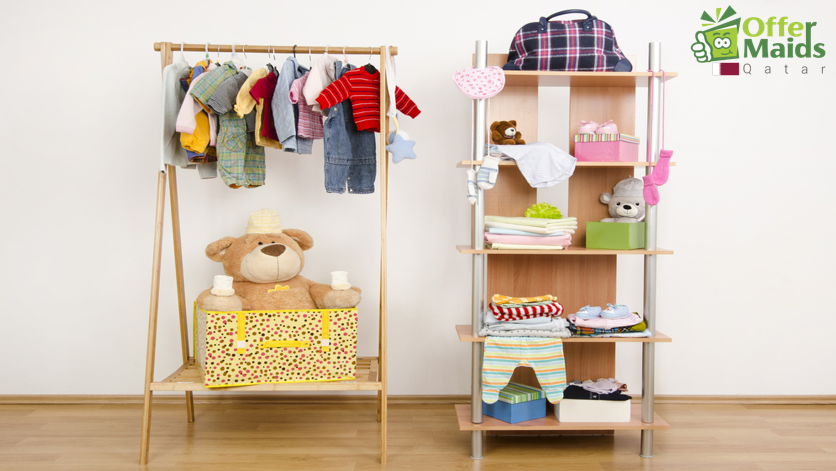 Kids have tons of toys with them and these toys contribute a lot of clutter to your home. It is better to designate space for keeping your kid's toys. You can look for spaces inside the closet your kids can reach and keep bins to them to drop in their toys. 
They will be able to grab their toys whenever they want to play with them and keep them back when it is not in use. You can use any open angled bins to keep the toys as they prevent things from spilling out of them. Hourly maids services in Qatar recommend utilizing the backside of doors, under bed storage areas, etc to keep their toys.
Want help with cleaning your home? Hourly maids services in Qatar can help you with all your cleaning related chores. Offer Maids is one of the leading house cleaning companies in Qatar where we provide the best hourly maids services in Qatar. We are experts in cleaning and we fulfill your cleaning requirements with utmost perfection.