It's no secret that office cleaning is a crucial element for any successful business. With modern offices now relying heavily on technology, the need for a clean, healthy and organized work environment is of utmost importance. In Qatar, with its diverse range of businesses and dynamic culture, the importance of office cleaning has become even more evident. From providing a healthier and more productive work environment to helping maintain the professional look and feel of the office, office cleaning in Qatar should not be taken lightly. In this blog, we'll explore the importance of office cleaning in Qatar and how it can help your business succeed. You can book the best office cleaning service in Qatar from the leading office cleaning company – OfferMaids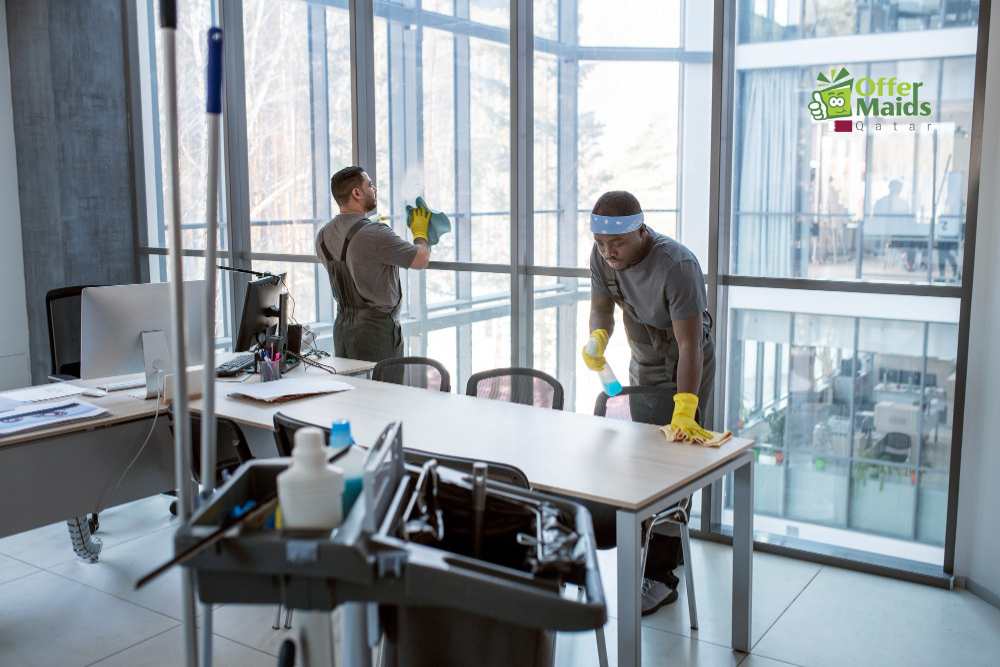 Listed below are the points which make you think how important office cleaning is:
Eliminates Bacteria:
You might notice some molds in the area due to the humidity of bacteria and that could lead to various infections like rashes, red eye, itchy skin, asthma etc. As a result that will directly impact the productivity of the company. Cleaning the office regularly will eliminate the build of bacteria. As the chance of increase in bacteria is higher during the flu season and during climate change. Get an effective office cleaning in Qatar from the leading office cleaning company in Qatar, OfferMaids.
Reduce Stress:
It can be stressful for both employees and clients to work in an unclean office. This is because an unclean office implies an unorganized one, which can lead to lost files and paperwork. Among other reasons, this is because an unclean office implies an unorganized one. If your office is too cluttered or too dirty, the atmosphere will also be more stressful. In an area that has food crumbs and unorganized papers, there will be distractions that will make it hard to focus. 
Also read Pre new year cleaning tips from OfferMaids Qatar
Improve air quality:
Cleanliness will affect the air quality of your office. Dust can accumulate on surfaces and floors when you don't clean them. Health problems can result when asthmatics or those with respiratory problems are exposed to this kind of pollution. The carpet contains the dust and when people walk over it the dust mixes with the air and makes the air quality poor. An effective office  cleaning will make the air quality better and thus will help to protect the health of office staff, clients and customers.
Book the office cleaning service in Qatar from OfferMaids, the best cleaning company in Qatar.
Keep you space clean:
You can personally contribute to office cleaning by keeping your space clean. Arranging the files, papers, folders in a proper place instead of scattering them after the work has completed.By doing so it will help you to relieve stress because you might feel more stress if your place is not organized properly and you cannot find the file that is required for the meeting.
Contact OfferMaids the leading cleaning company in Qatar who provides the cleaning services at an affordable rate and with high quality service.