Makeup Brush Cleaning Tips From Maids Cleaning Services In Qatar 
Top tips from Maids cleaning services in Qatar on makeup brush cleaning.
Do you really have to clean makeup brushes? According to the latest study, an unclean makeup brush can cause skin infections and health issues. Regular usage of makeup brushes accumulates dirt, dead skin cells, germs, allergens, pollutants, and dust in them. Dirty makeup brushes can cause skin irritation, breakouts, and eye infection says experts from maids cleaning services in Qatar.
Here are a few tips from maids cleaning services in Qatar on how to clean your makeup brushes.
1. Why Clean?
An unclean makeup brush accumulates dirt and germs.

Dirty makeup brushes do not smoothly glide over your skin the way you want and won't give you a flawless finish. 

It irritates your skin and causes breakouts.
2. How Often to Clean?
A good brush cleaning can eliminate all kinds of makeup residues from your makeup brush. Maids cleaning services in Qatar suggest washing your make-up brushes and sponges after each use if you are a makeup artist or you apply a noteworthy amount of makeup every day. 
Everyday application of cream or liquid-based makeup products like foundations and concealers with an unclean brush or beauty blender is likely to cause infections. If you apply only a mild amount of makeup, it is better to clean the applicator at least once a week.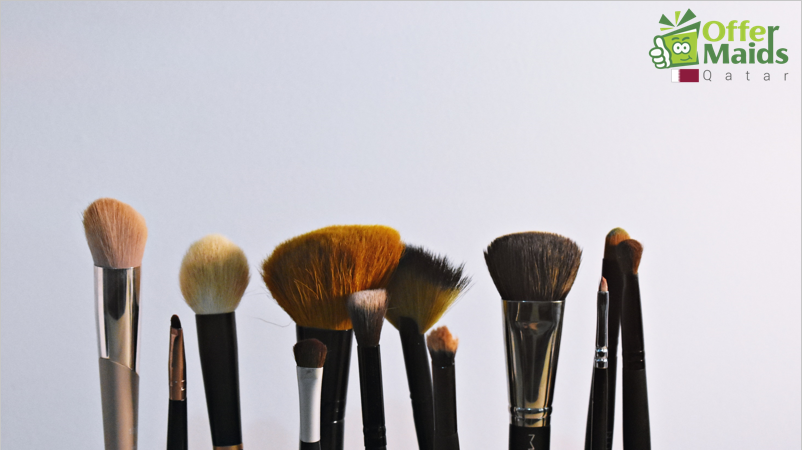 3.  How to Clean?
Follow the below steps to clean your makeup brush the right way. 
Dip your brush in warm water to make the bristles wet.

You can use a mild cleaner or a makeup brush cleaner solution to clean the brush.

Put a drop of cleaner into the brush and gently massage the tips of the bristles with your fingers. 

Rinse it thoroughly and gently squeeze out the excess water. 

Lay the makeup brushes at a downward angle and let them dry.
Read Also: How to prepare for the COVID-19 second wave?