Post-Party Cleaning Checklist By Top Party Helpers In Qatar
Here is your post-party cleaning checklist by expert party helpers in Qatar. To help you with a quick party clean up, we have covered everything for a seamless and easy peasy after-party cleanup session.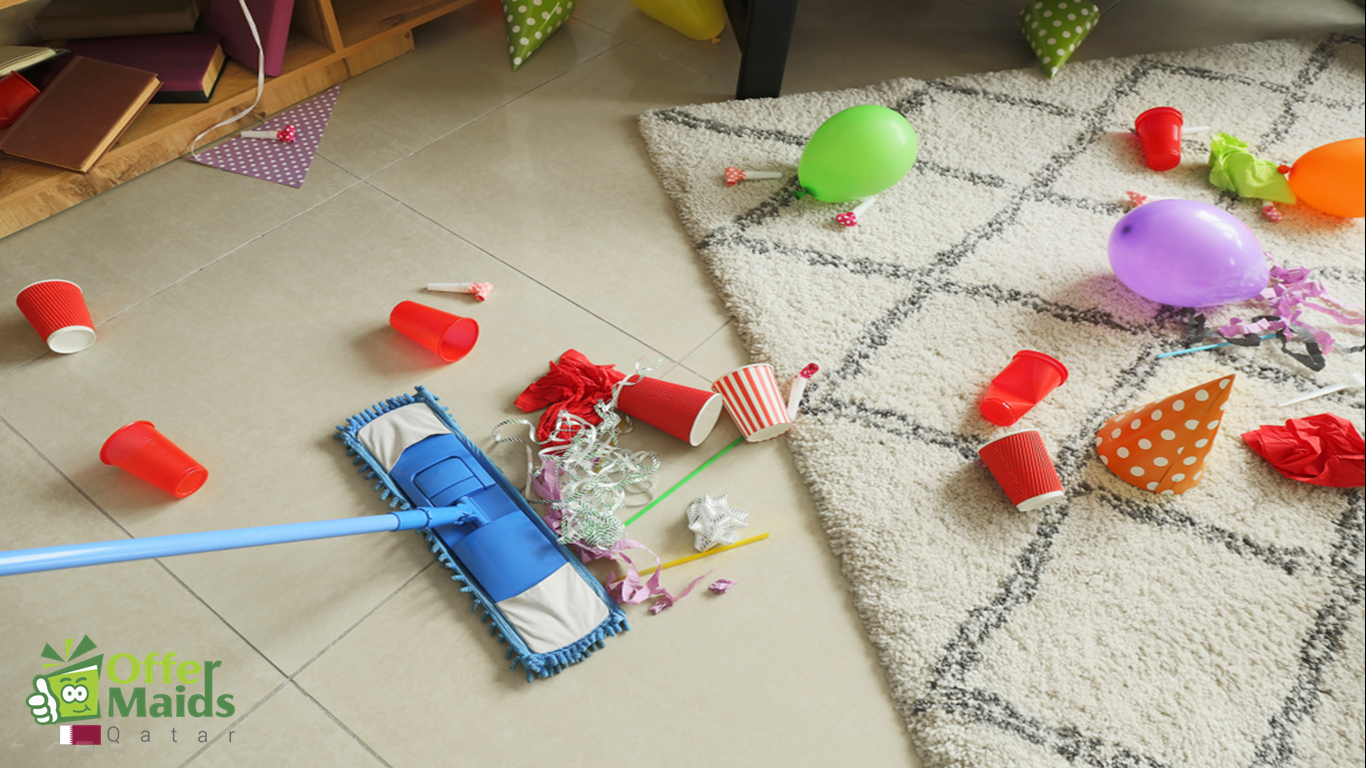 Hosting a party is exciting and entertaining. Getting into a lot of tasks from planning to preparing the party can be sometimes overwhelming. When hosting a party, we pay attention to every detail about the party. We spent the day arranging everything at the best for the guests and taking care of all the hosting duties. You will be working in every way to make your party a success, from the planning phase to the end of the party. 
Most people tend to forget one thing in the party planning. That is the after-party planning. You did everything to host an amazing party, but what about the after-party scene? 
While party planning and hosting a party will be so much tempting and fun, cleaning all the mess after the party can be so frustrating and challenging. You've to deal with a bigger mess. From stains, unpleasant odors, and ants welcoming you you have got a lot of mess to clear.
Same Day Post Party Clean up Checklist
No one can think of a cleaning session right after the party. In fact, after the party gets over, we all think of taking some rest. Party helpers in Qatar suggest some amazing cleaning tips where you can cut down a lot of your cleaning stress after the party.
Grab a carton and collect everything that goes to the recycle bin including all the plastic cups, used bottles, and cans. Gather all the trash outside. 

Transfer table linens and kitchen towels for laundry. 

Leftover food items can be packed up and keep them inside the fridge. This will prevent food items from damaging and also get rid of all the foul odors.

Use a toilet bowl cleaner to deep clean the toilet bowl.

Once, all the mess is in control, now you can use a cleaner spray over surfaces. Party helpers in Qatar advises using a disinfectant cleaner to get rid of all kinds of germs. You can use it over high touch areas like switches, toilet seats, door handles, faucets, tabletops, chair handles, countertops, etc. and wipe it off. Never use chemicals on natural stone surfaces as it can damage them. Instead, you can mix some drops of a mild dishwashing liquid with water and use this as a cleaning solution.

 As the final step, you can vacuum the rugs, carpets, and floor to remove spills and dirt. 
That's it. You can finally relax after a long day and wake up the next day without feeling the stress of cleaning.
Next-Day Party Clean Up Checklist
A next day party clean up is always a more relaxing cleaning session. According to expert party cleaners in Qatar, when it comes to post-party cleanup sessions, breaking down the cleaning tasks into simple manageable steps is the smartest way of approaching each of the cleaning tasks.
You can start your post-party cleaning by taking down decorations. You can also keep any items if needed and direct unwanted items to the trash.

If you could soak the used utensils the night before it will be easier to wash them as leftover food won't dry out the vessels. You can also load the used vessels into the dishwasher.

You can hand wash fragile utensils to prevent breakage.

After drying the kitchen clothes, you can remove it from the dryer, fold, and keep them.

Give a wipe to windows, doors, and mirrors to remove fingerprints and dirt.

Don't forget to keep occasional or party accessories back to the shelf.

If you've used the outdoor kitchen or barbecue grill, clean them off.

If the guest's used the outdoor patio, then make sure you cleaned all the messes. You can hose down the patio area to remove all the debris.

Here's your step by step guide by party helpers in Qatar on how to break post-party cleaning tasks into simple manageable steps
Step 1:Gather cleaning essentials
Gather all your cleaning accessories before you start cleaning. If you've everything next to you, you don't have to pause in between and go back to collect the equipment. Here's your cleaning essentials list.
All-Purpose Cleaner

Disinfectant Spray

Cleaning Sponge

Mop

Vacuum Cleaner

Trash Collector
Step 2: Get some fresh air
Start working in a positive atmosphere. Open the curtains and get some fresh air inside. It helps to remove bad air from your home, and also creates good air circulation inside your home. Working on a fresh atmosphere improves your mood and reduces your stress while cleaning.   
Step 2: Collect all unwanted disposables
Collect all the unwanted disposable bottles, tissues, and other unwanted stuff indoor and outdoor. Separate them and move them to the trash. This will reduce a lot of mess inside the party area.
Step 3: Order the cleaning areas
Start with the rooms, clean each room one after the other, and then move to the kitchen. Once the kitchen is cleaned, now you can go and clean the outdoors. At last work on the bathroom and that is it.
Step 4: Your Cleaning Order
Party helpers in Qatar follow the below 3 step order for an effective post-party cleaning
Organizing

Vacuuming

Moping
Offer Maids – The Leading Party Cleaning Services In Qatar
The post-party cleaning is always a fearful and most frustrating task for almost all of us. To help you with a quick party help and post-party cleaning, Offer Maids, the leading party cleaning services in Qatar bring the best party helpers and party cleaners in Qatar.
Want to know the benefits of professional party cleaning, check our our blog here. Our party cleaners in Qatar are cleaning specialists and are committed to giving you the best service.
So hire experienced party helpers in Qatar from the most prominent party cleaning services in Qatar – Offer Maids, and host your party with confidence, enjoy a stress-free post-party cleaning.