Essential Qualities To Look For When Choosing A Pet Sitter
Pets are adorable and being a pet owner is a responsible commitment. Having a pet assure you a lot of mental and physical health benefits. From offering companionship to reducing loneliness and depression to improving cardiovascular health. There are several studies that proved that having a pet improves people's mental as well as physical health. Pets are blessed with mind boosting powers along with health improving powers such as lowering blood pressure and cholesterol levels, reduces chances of strokes and heart attacks, etc. It is also vital to look after our pets in the right way and to choose a best. Pets like dogs are routine oriented. Proper vet check ups, nutritious food, exercise, attention – they deserve it all.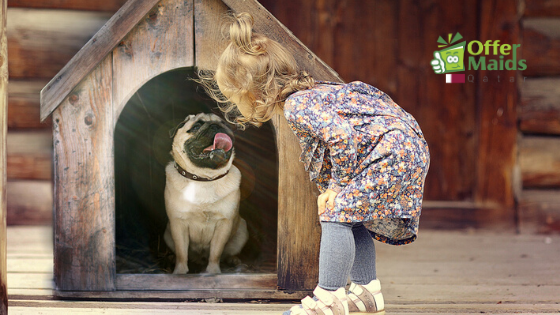 Almost all pet-owners have gone through a few situations where we need to hire a pet sitter or a pet sitting service. Sudden business trips, vacations, or other emergencies – we can't think of leaving our lovely pets alone and in such situations, we want to hire a pet sitter. There will be a number of pet sitting services available but finding the best pet sitter is a confusing job to do. The primary quality of a pet sitter should be their love for animals. They can care for our pets only if they love what they are doing, and if it is just taken as a job, then they cannot be a good pet sitter.
Here are some best dandy qualities to look for when you choose a Pet sitter Qatar
Dedicated and love for animals
You love your pets and you want them to be in safe hands when you are out. The primary quality of a pet sitter is unending love for animals. Interview the pet sitter before you decide to hire them. Introduce your pet to them to see whether they pay attention to your pets and this will help to know if the pet sitter you hire is curious about your pets. It is very easy to understand the pet sitter you hire has an inborn love for pets from their behaviour when they are introduced to pets. They should be dedicated and have a desire to get to know the pet.
They need to be trustworthy
It is important to hire a pet sitter who is trustworthy. You are allowing the pet sitter inside your house even when you are out and handing your house keys to them. Hire a pet sitter only if you feel 100 percent confidence in them. How do you know if a pet sitter is trustworthy? To know that, bring out the CID in you and do a small background check by checking references from the previous employers or you can hire a pet sitter from a most reliable  Pet Care Service Qatar. Pet Care Service Qatar provides pet sitters who are background checked and highly trained so that you can  hire them without doubt.
Hire an experienced pet sitter
If your pet requires special attention or more care, make certain that you hire an experienced pet sitter. You can check the experience of a pet sitter. Pet Care Service Qatar like Offer Maids in Qatar provide highly experienced pet sitters for handling different kinds of pets. Some pets have a medical condition or may require extra care. In that case if you hire a pet sitter without experience in this field can make things worse. In such situations, hiring an experienced pet sitter who has prior experiences in handling similar situations can help you and your pets in a far better way.
They work on flexible schedules
You don't know at what point of time, you'll need a pet sitting service. If you have an important appointment or client meetings, you will need to hire a pet sitter not to leave your pet alone. A lot of emergency situations can come unpredictable and at the point, you may need a pet sitter with a short notice. If you hire a pet sitter who is ready to work on flexible schedules, then you do not need to worry about leaving your pets alone when you are out as you can trust your pet sitter that they will be available for our pets anytime when there's an emergency situation.
They should have patience
A pet sitter should have patience and be interested in caring for your pets. Some pets need extra care and some require their own time for training. Some require more training time. In that case, only a pet sitter with patience can help better. It will take time to correct some wrong behavior  or accept new behaviors for pets such as dogs. If the pet sitter does not show much patience, then he/she will fail to teach good behaviours to pets. A good pet sitter can understand what the pet needs and how the pets need to be handled.
There are a lot of good reasons to hire a pet sitter. If you want to know more about the reasons to hire a pet sitter in Qatar, please have a look at our previous blog by click on the link Reasons to Hire a pet sitter in Qatar
Hire best pet sitters from the best pet care service in Qatar
You can hire the best pet sitters from Offer Maids, one of the top pet care service Qatar. We love pets and we ensure you that we will take care of your pets when you are out. Our pets sitters are well trained and highly experienced. We make sure that our pet sitters are background checked to provide you trustworthy pet care service Qatar.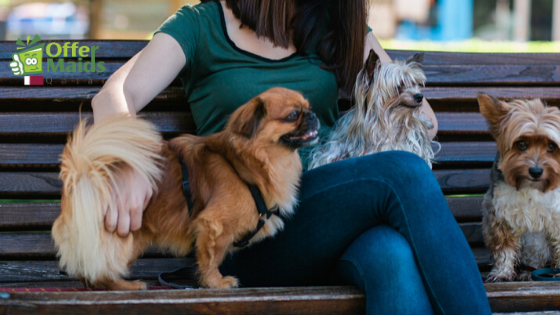 Apart from pet care service Qatar, we do provide reliable hourly maids in Qatar for the best cleaning experience. Our wide ranging service includes residential and commercial deep cleaning services. We are also experts in laundry, ironing and after party cleaning. We provide you the best professional cleaning service in Qatar so without doubt you can leave all of your cleaning chores on Offer Maids.