Reasons to Hire a pet sitter in Qatar
Planning a vacation? Or just busy with work? Whatever the reason, leaving your pet at home can be quite distressing for a lot of people. For one thing, they wouldn't be able to open the refrigerator and get their lunch, nor would they be comfortable being on their own at home. In fact, leaving them alone for any length of time makes them moody and depressed. Rather than getting a neighbor to look in on your dog every two hours, it would be better to hire professional pet care service in Qatar when your busy schedule keeps you from attending to your pet. There are a lot of benefits to hiring professional sitters, and there are things you should look into before choosing a sitter while you are away. Read on to find out more.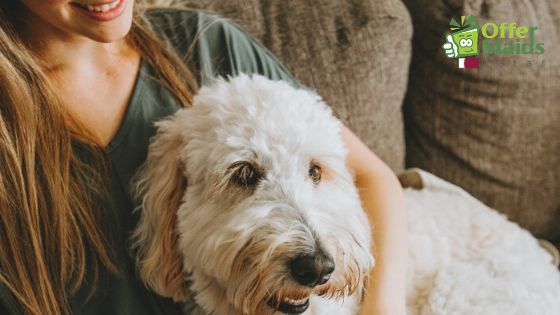 What is pet sitting?
The term sitting refers to taking care of someone while the guardian is away. In the case of pets, this is someone who may or may not be professionally trained to handle pets for any length of time, providing necessary care and companionship while their owners are not around. Pet sitters can be called in while you are away at work, off on vacation or a night out with friends.
Basic services
Professional pet sitters in Qatar offer a variety of services for your pets while you are busy elsewhere. This includes feeding them, refilling the water bowls, cleaning up after the pets, including the litter boxes, as well as services like washing and walking your pet if you require them to.
Additional services
Homeowners usually rely on pet day cares to handle their pets while they are away, citing security concerns, especially if their pets need overnight attention. But with a professional pet care service in Qatar, you will be able to ensure the safety of your home and your pet with a single crew.
Pet sitters who work with cleaning services in Qatar take active measures to guarantee the safety of your pets along with your home's security. Even with security systems, burglary is still something to take precautions against if you are on vacation. Pet sitters can arrange to bring in your mail and newspapers regularly as well as switch on the lights in your home to give it a lived-in look.
Benefits of a pet sitter service
A lot of pet-owners rely on professional pet sitters to take care of their pets and provide in-home care while they are away. Here are some reasons why.
Pet comfort
There are a lot of pet day cares that you can leave your pets with while you are away. They would be in the company of other pets and so get some opportunity to socialize. However, if your pet is not used to being around other pets, this can be quite difficult for them. Being in a comfortable environment eases their anxiety even when you are not around, and pet sitters in Qatar make sure your pets do not.
Uninterrupted daily routine
Walking your dog is the most important part of your routine – it is a great exercise for one, and builds a bond between you and your pet. So when you are not around, your pet would become lethargic and depressed. When you hire a pet care service in Qatar, your pets get the required workout on time every day and get to stay fit and energetic all day.
Less stress from travel
Most pets don't like to stay still for long hours, especially in a moving vehicle. Added to that, you will need a lot more rest stops for your pets, different food and water cups as well as litter bags if your pets need to come along on the journey. Would it not be infinitely more easy for them to be comfortable at home with their favorite chew-toy?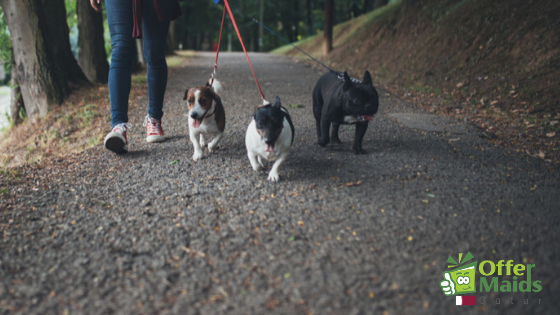 Things to remember
Before you hire a pet care service in Qatar, you will need to take care of a few things at home, both for your pet as well as for the sitters.
Choosing the sitter
While looking at different pet care services in Qatar, make sure you find one that hires professionally certified sitters for your pet. It is too easy to hire a company that advertises the best professional care for your pets but which lacks trained personnel to carry out these promises. And when you find a professional pet care service, ensure they have contingency plans for when a sitter is not available, or a medical emergency arises.
Secure pet supplies
Before you leave, you will need to stock up on your pet's favorite food and treats to keep them settled at home. Communicate with the pet sitters beforehand regarding any special requirements – like a special command or a favorite toy that would make them feel less anxious about being alone.
Make sure your pet's medical documentation is on hand for quick retrieval. Also, ensure that you are always available on call in case the sitters need to contact you. Remember, your pet is like a small child that needs constant attention – the pet sitter is just like a babysitter to make sure they are comfortable and safe in your absence.
Hire the best sitters
Leaving your pets in safe hands while you are away from them is a tough choice. Even so, when you actually sit down and look through the dozens of pet sitters in Qatar, you would not be sure which is the right one for your pets. Hiring an inexperienced sitter can be distressing for your pets as well because they wouldn't know how to deal with your pets in the first place, let alone keep them happy throughout the day.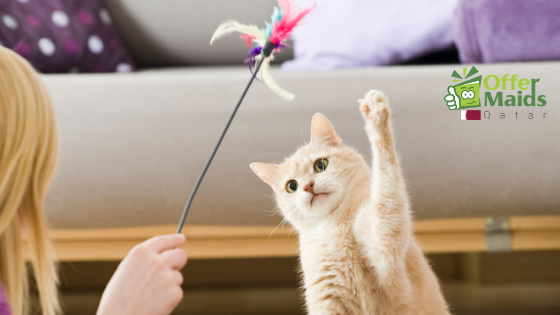 Offer Maids is the best professional pet sitter service in Qatar. We make sure your pets are not only comfortable while you are away, but they have a good time as well. We guarantee reliable pet sitting services at affordable prices for all our clients. So worry less when you leave your furry friends with us.