Quick Cleaning Hacks For Working Moms By Best Home Cleaners In Qatar
          If you are a working mom, you definitely know how difficult it is to handle cleaning chores along with finding time for your loved ones. Perfectly balancing between work life and personal time is not a much arduous task. To find the perfect balance, all you need to do is follow an ideal routine and some expert hacks. Top home cleaners in Qatar follow these expert tricks for a speed cleaning.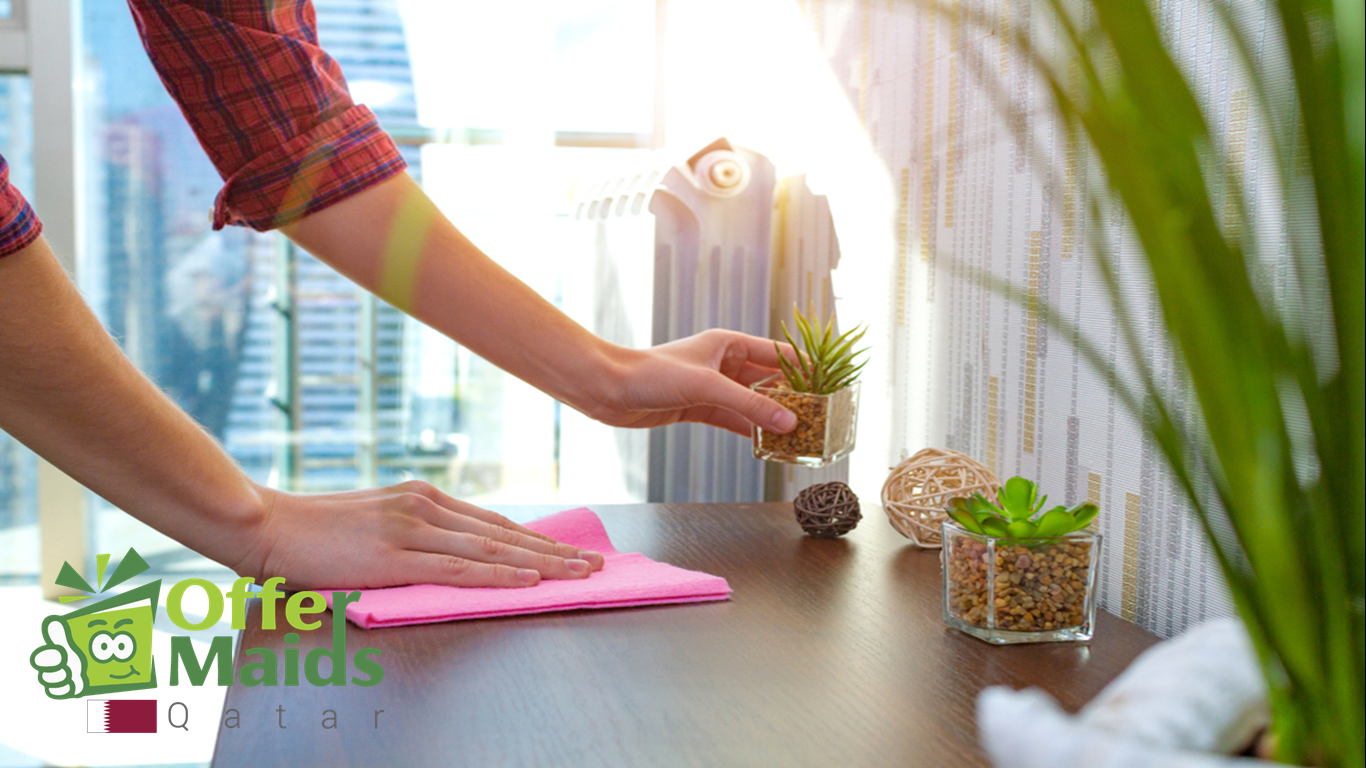 So let's find out what are the quick cleaning hacks that will save a lot of your time and energy. 
1. 
Follow a routine
           Top home cleaners in Qatar recommends to follow a cleaning routine as it will help to ease off a lot of cleaning stress. You can fix time for daily cleaning, allot slots for various cleaning tasks. Fix a time for dusting, you can do laundry every alternative day. Every day if you are doing some cleaning task, then it can reduce a lot of messes in your home and reduce the need for frequent deep cleaning sessions. You can also fix a routine for vacuuming at least once or twice a week, and not doing it every day. This can minimize your cleaning loads and hence save some energy.
2. 
Get the right tools 
          When it comes to cleaning, it is important to use the right cleaning tool. Use of right cleaning supplies can save a lot of your time. They can help you quickly finish off the task. Here are some of the cleaning accessories which can help you better.
Laundry Pods –

These pods can simplify your laundry tasks. You do not have to worry about detergents or measurements as a laundry pod will do all the work. You can put these laundry capsules in your washer and they can make your clothes look brighter and vibrant.

Blind dusters – Blind dusters made with microfiber can easily work on wooden blinds to make them dust free and add an instant shine to them. You can also use them for a quick cleaning for the corner spaces.
Disinfectant Wipes – These wipes can help you with quick cleaning and also it will kill the germs and thus create a healthy environment. Top cleaners in Qatar suggest using disinfectant wipes for a pathogen free surrounding.
Compact Vacuum Cleaners – Mini vacuum cleaners are compact in size and they can reach all those corners where your normal vacuum cleaners wont reach. These portable vacuum cleaners can be carried to anywhere as they are lightweight and in smaller size.
Magic Eraser – Magic erasers are all purpose cleaners which can be used to remove almost every type of mark including scuff marks, paw prints, dirt and grimes within a short period of type. They are like mini scrubbers that do cleaning with water only.
 3. 
Use storage baskets
          Storage baskets or bins can help you in plenty of ways. Suppose some guests are arriving in a short period of time and your kids toys are scattered on the floor. In such situations, you can grab some storage baskets and dump all of the toys inside these baskets and thus hide them from your guests. You can also use storage to keep your kitchen towels, tissues, and other similar items. Your hobby accessories and craft tools can also be stored inside these bins. Under bed space is the best place to keep the storage baskets hidden from other sight.
4. Fix time for regular decluttering
          "Finding time for decluttering on a regular basis can reduce the decluttering load and it will also keep your home organized", says an expert from home cleaners in Qatar. Regular decluttering can help you in many ways. It will reduce messes in your home and also simplify your cleaning job. It keeps a well placed feeling once you enter the home and thus creates a positive mood. You don't even have to rush for a quick cleaning before your guests arrive. A decluttered home keeps you relaxed, happy and more creative.
5. A brisk wipe after cooking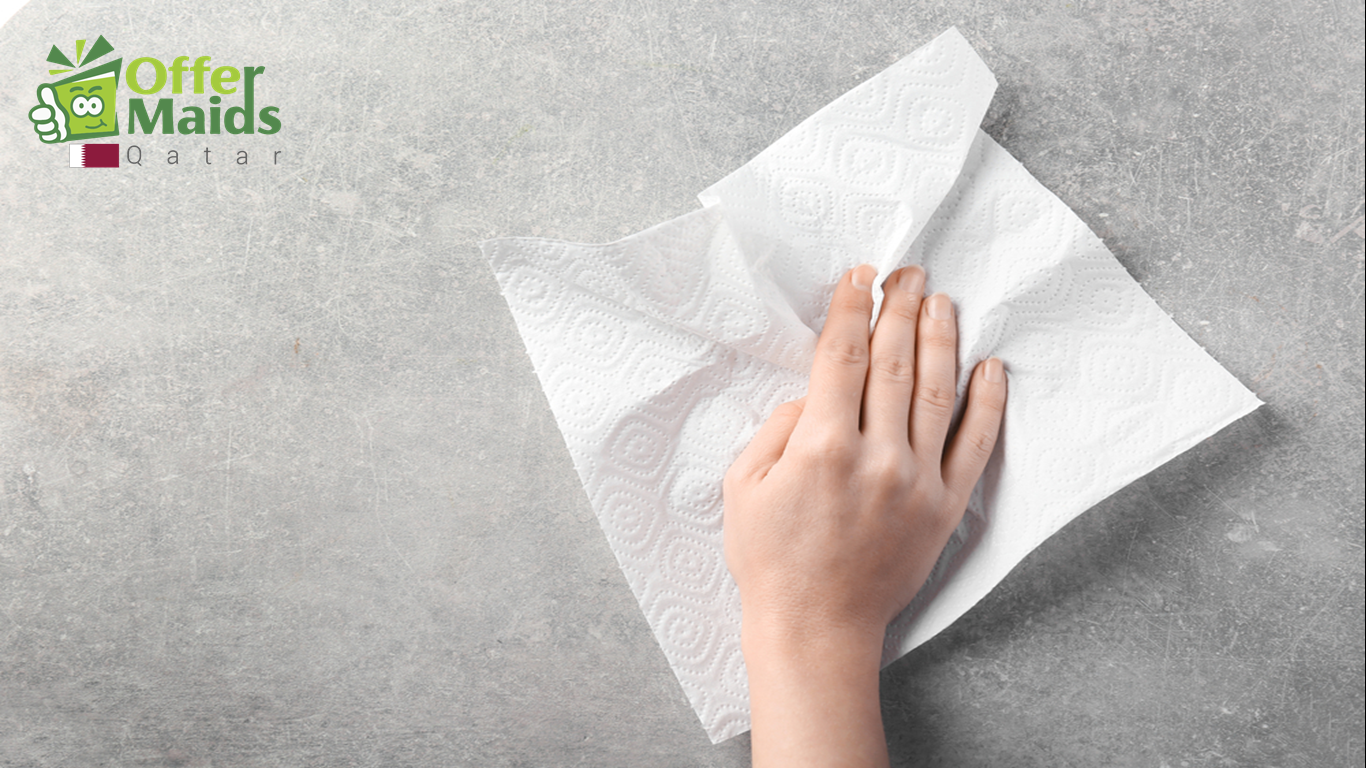 All the moms love to cook dishes for the kids and their family. But what after cooking their most favorite dish? There is always a messy kitchen that welcomes us. Lots of dishes to clean. Just follow this quick tip by top home cleaners in Qatar. Grab all the dirty dishes and sock them so that there won't be a tough dirt build up and thus making it easy to clean. You can also give a quick wipe to your cook-top and clean all the spills straight away so that the kitchen will always look clean, hence less cleaning stress.
6. Clean the bathrooms at night
          You can clean the bathrooms at night. This gives you many benefits. You can clean the bathroom when there is less probability that others need to occupy bathrooms. If there is more than one bathroom in the house, you can wash it every alternate night. So that people can use the other bathroom when this one is under cleaning. Never miss giving a scrub to the shower heads, faucets as this will add up an instant shine to them. In this way, every morning you can let cleaner and brighter bathrooms to welcome you.
7. Use air fresheners
          Air fresheners can instantly lift up the mood. It also keeps all the bad odours out of the home. You can use commercially available air fresheners or make a natural air freshener with some of your favorite essential oils.
          If you want to know housekeeping tips from professional hourly maids in Qatar, check out our previous blog here 7 Time-Saving Housekeeping Tips From Pro Hourly Maids in Qatar.
Hire Best Home Cleaners In Qatar
          Offer Maids is one of the top-rated cleaning companies in Qatar. You can find the best home cleaners in Qatar from Offer Maids. Book experienced, background checked and reliable hourly maids in Qatar from Offer Maid. Leave your cleaning jobs on experts and you can relax, and spend more time with your loved ones.