Top Tips To Organize Household Gadgets By
Offer maids House Cleaning Qatar
For people who love gadgets, here's everything you need to know on how to arrange them by Offer Maids house cleaning Qatar.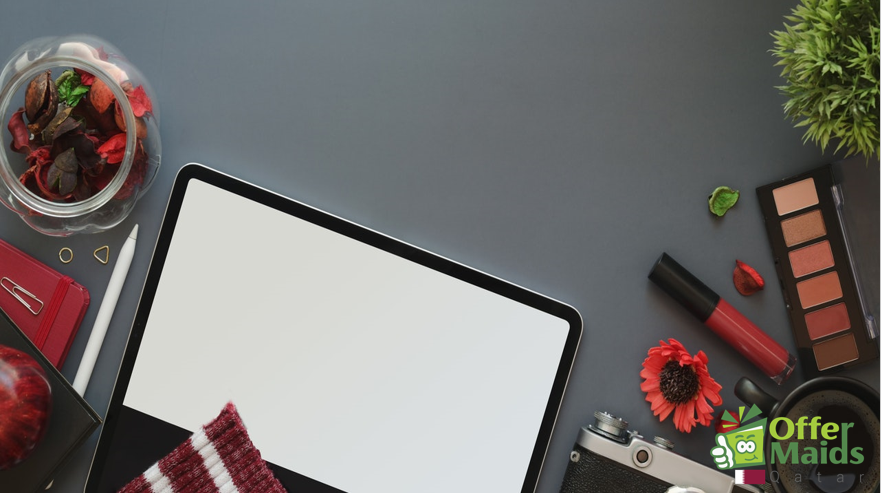 We know that household gadgets make our life so easier. They come as super handy and their efficacy speeds up cooking. Other than kitchen gadgets, the whole family tots loads of electronic gadgets including mobile phones, tablets, digital cameras, audio players, and whatnot.  Sometimes they take up the entire space of your room or even extends to the other parts of your home.
Offer Maids house cleaning Qatar has come up with some brilliant tips to keep all your household gadgets organized without cluttering the entire room.
Safety Comes First
Before you start organizing your gadgets, it is important to find a suitable place to keep electronic gadgets. You cannot store electronic gadgets anywhere in the house. They need to be kept in a favorable environment. Find a place that is dry, away from direct sunlight. Make sure that you are not keeping your gadgets in extreme temperatures.
There may be some gadgets you don't use frequently. It is better to dismantle hazardous parts from those gadgets. For example, the batteries or ink cartridges can cause fire hazards, spillage, or even complete damage to the gadget when exposed to an unfavorable environment.
Decluttering Is A Must
Always start the cleaning and organization process by decluttering the digital stuff. Check all the drawers, tabletops, and plug points and gather all your gadgets and related accessories. Make sure you collect all the cords, batteries, and chargers. 
Once you gather everything, now monitor everything. Now you can group the gadgets into three categories. Those that are damaged or broken will go to the discard category, the gadgets that you will be using will go to the ready to keep category. The remaining that are still in good condition but you to the donation box. Now start working on the ready to keep category.
Designate Multi Slotted Charge Points
It is important to find a dedicated charging place where you can charge all the electronic gadgets without messing up the entire room. If we organize them the right way, we can certainly increase the life of these gadgets. There are a lot of simple things we can do to make them clutter free. 
From adding protective covers to arranging charging points, if we pay attention to minute details, the gadgets will stay in good condition for a longer time. Offer maids house cleaning Qatar suggests using multi slotted chargers to charge gadgets you use regularly.
Protect Your Gadgets
It is necessary to keep your gadgets organized and clean. But protecting them using screen protection covers and accident protection cases are also equally important.  Invest in some good quality screen protectors and cases to protect your electronic gadgets from accidents. Offer Maids house cleaning Qatar suggests using high quality cases made of neoprene, plastic, or metal covers. 
You can also label your gadget cables to prevent mix up of cables. Sometimes, if you use a wrong cable, it can cause issues while charging or even damage to your target. Hence, labeling the charger cables helps to easily identify the right one.
Related: 8 Top Things You Should Clean Everyday
Find A Place For Storing Kitchen Gadgets
Is your kitchen overflowing with those tiny gadgets? If you do not find a proper way to store these gadgets, it may sometimes create big messes inside your kitchen. Maids cleaning services in Qatar suggests using baskets to fill up little household gadgets. You can arrange these gadgets depending on the purpose, usage, or even size. 
Another method is to use pull out drawers to keep gadgets out of sight. They will keep your tools hidden. If you are using multiple baskets to keep kitchen tools, it is better to label them so that you can easily recognize them.

Maintain An Inventory List
Maintaining an inventory list lets you know the vital details regarding your product. Add the model number, purchase date, warranty details related to each gadget to this list. This information will be helpful for future reference. Having an inventory list helps you keep track of things. Monitor and update this list in a periodic manner. It will help you to add new gadgets to the list. Make sure you include the details of the supporting accessories.
Hire Reliable Cleaning Specialists From Offer Maids House Cleaning Qatar
If you are looking for a reliable cleaning service in Qatar, we can definitely help you with it. At Offer Maids house cleaning Qatar, we offer the most trusted cleaning maids in Qatar. Our maids are well mannered and highly passionate about cleaning. We are leading maids cleaning services in Qatar with a proven track record in residential, commercial, and window cleaning Qatar. We will deep clean your space to keep your premises sparkling, spot-free, and free from germs and bugs. Book your service right away and feel the difference.